Barcelona's low-emission zone comes into effect
The penalties, restrictions, and everything else you need to know about the new anti-pollution measure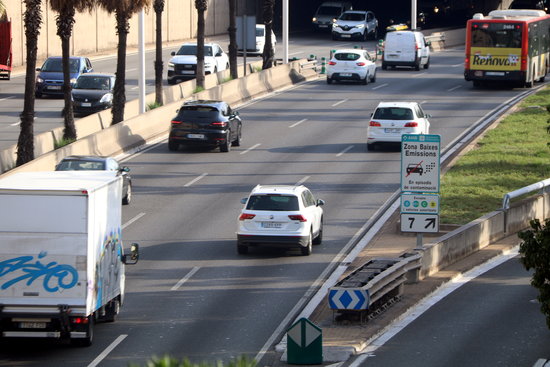 January 1 sees Barcelona introducing an anti-pollution measure that restricts access by some polluting vehicles to almost all the city and other surrounding towns (an area called the low-emission zone, or LEZ).
The measure, which it is estimated will affect some 50,000 vehicles, will issue fines to drivers whose vehicles are not allowed to enter the LEZ at certain times of the day.
The LEZ has existed since December 2017, but only begins functioning on January 1, followed by a three-month grace period to allow drivers to adapt to the new measure.
While those are the broad outlines of the LEZ measure, drivers will naturally have a lot of questions and doubts, many of which are dealt with below.
Which parts of Barcelona does the LEZ cover?
The LEZ covers 95 square kilometers and includes most of the city and towns in the metro area, such as Sant Adrià de Besòs, Hospitalet de Llobregat, Esplugues de Llobregat and Cornellà de Llobregat. Some areas are excluded, including the city's main ringroads.
What is the restricted timetable?
The restrictions will apply from Monday to Friday, from 7am until 8pm.
Which vehicles are not allowed in the LEZ?
The measure restricts older, polluting vehicles, including petrol cars registered before 2000, diesel cars registered before 2006, vans registered before October 1, 1994, and motorbikes and mopeds registered before 2003.
What if your vehicle is restricted but you need to drive into the LEZ?
Restricted vehicles that need to enter the LEZ are allowed up to 10 special permits a year issued by the Àrea Metropolitana de Barcelona transport authority (AMB) at a cost of two euros each.
What if you need to enter the LEZ in an emergency?
If there is a medical emergency and you do not have time to apply for a permit, you can do so in the following three days. Any fines issued will be refunded after presenting a medical certificate and confirmation of the permit. Driving into the LEZ for medical treatment over an extended period is allowed while the treatment lasts.
Are foreign vehicles covered?
Vehicles with foreign licence plates are subject to the same conditions as local ones, and need a permit from the AMB to enter the LEZ.
What are the penalties for entering the LEZ without authorization?
The penalties are in the form of fines that go from 100 euros to 1,803 euros, depending on the vehicle and the seriousness of the infraction. For example, during periods of heavy pollution, normal cars, motorbikes and light goods vehicles could receive a fine of between 500 and 999 euros for breaching the rules, while heavy goods vehicles or coaches would be fined between 1,000 euros and the maximum 1,803 euros. In contrast, during times of light pollution, the penalties drop considerably, with light vehicles risking a fine of between 100 and 499 euros, and heavy vehicles fined between 500 and 999 euros.
Which vehicles are exempt from the restrictions?
There are a number of exemptions, such as emergency service vehicles and those belonging to people with reduced mobility. Some vehicles used to provide special services, such as cranes, cement mixers or sales vehicles, will be exempt when they enter the LEZ to perform a specific purpose. Meanwhile, vehicles belonging to low-income families have been given an extra year to adapt before the restrictions apply to them, as have extremely large vehicles, such as certain lorries or buses.
How will the authorities monitor the LEZ?
The local Guàrdia Urbana police will be responsible for monitoring the zone, and there will also be 200 cameras installed at the city's main access points that are capable of reading licence plates and identifying polluting vehicles. Restricted vehicles that enter the LEZ without authorization will only be fined once if less than 90 minutes has gone by before being detected by a second camera.