Spain's Congress approves second coronavirus state of alarm extension until April 26
Chamber supports prolongation but shows skepticism ahead of proposed transition-like deal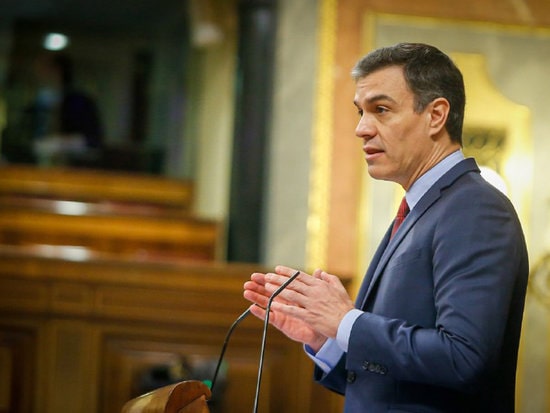 Spain's Congress has voted in favor of extending the state of alarm until April 26 to continue dealing with the ongoing coronavirus public health crisis that has already killed more than 15,000 people in Spain.
This comes after a lengthy debate in which different political parties had their say on the current state of affairs and saw a final result of 171 votes for, 2 votes against and 174 abstentions.
The governing Socialists and Podemos voted in favor, along with the opposition People's Party, Ciudadanos and the Basque Nationalist Party. Catalan pro-independence parties Esquerra and Junts per Catalunya abstained. Far-left pro-independence CUP voted against, as did far-right Vox.
Second state of alarm extension
Thursday's is Spain's second state of alarm prolongation following its first 2-week declaration on March 14 after a steady increase in Covid-19 cases.
As stipulated in the Spanish Constitution as a requirement for any such extension, the cabinet sought congressional support and received it for the first time for this purpose in the early hours of March 26.
Pro-independence parties abstained in late March due to the Spanish government's decision not to impose a total lockdown in Catalonia, as had been requested, and workers employed in non-essential services were only barred from leaving home to work from March 30 to April 9.
On Thursday Sánchez stated, however, that he thought the state of alarm would have to be extended until at least May 11. "I am convinced that in 15 days time I will have to come back once again to draw out the state of alarm decree," he said, addressing the congresspeople present in the chamber, "because we will not have put an end to the pandemic by then."
New Moncloa Pact
Pedro Sánchez used Thursday's debate to formally invite all parties to meet next week to discuss a"great economic and social agreement for the reconstruction" of Spain in the form of a new Moncloa Pact. The Moncloa Pact dates back to 1977, after the death of dictator Francisco Franco, and secured cross-party consensus that allowed for the Spanish transition to democracy.
"In this agreement, we will include social actors, the regional presidents, and the political parties that are willing to do their bit," he explained.
The head of the People's Party, however, expressed little faith in the success of such a pact. "He can hardly hope to rewrite Spain's transition when he can't even negotiate a decree," Pablo Casado claimed derisively.
Caution and criticism from Catalonia
Cautious voices were also heard in Congress from Catalan parties, as pro-independence Esquerra Republicana's Gabriel Rufián contended that "the task ahead won't be sorted by the high-ranking members of four parties, the army, and the king, in a Moncloa government office."
Similarly, the far-left pro-independence CUP party took Thursday's debate as an opportunity to criticize the Spanish government's handling of the pandemic. "You [the Spanish government] are taking advantage of Spain's worst crisis in decades to secure the power of the market and authoritarianism," said the party's congressional spokesperson, Mireia Vehí.
Laura Borràs, an MP for JxCat, said she was in favor of "coordinating efforts in the fight against Covid-19," but stated unequivocally that her party would not stand for "re-editing the Moncloa Pact." And just as the Catalan government did on Wednesday, Borràs warned against a hasty loosening of lockdown regulations, arguing if not planned properly it could end up doing more harm than good in the long run.
The Catalan government itself also expressed some skepticism. "We will not support any agreement that seeks to strengthen any re-centralization," said spokesperson Meritxell Budó, of the same party of Laura Borràs, although she did confirm that President Quim Torra would still be participating in the meeting in the spirit of "collaboration and cooperation" and in an attempt to "join efforts and find solutions."