Sánchez faces uphill struggle to repeat historic Moncloa Pact to overcome crisis
Cross-party consensus in 1977 helped Spain emerge from economic ills and dictatorship but Spanish executive's call to "unity of action" is a tall order in 2020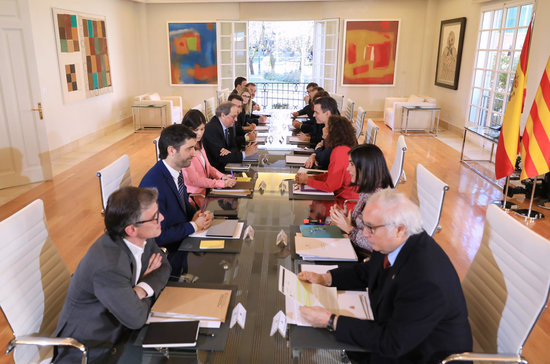 The coronavirus pandemic is not the first crisis that Spain has faced in modern times and the Spanish government is now looking back to another critical period in recent history when broad consensus helped it on the road to becoming a functioning democracy.
The Moncloa Pact of 1977, named for the Spanish president's official residence in Madrid, saw political parties, business, and trade unions agree on a plan to solve Spain's economic problems and help its transition from a dictatorship to a modern democracy.
Spanish president Pedro Sánchez invoked the Moncloa Pact over the weekend, proposing broad, cross-party consensus to deal with the current coronavirus crisis that has pushed the health system to its limits and that will end up costing tens of billions of euros.
Since then, members of the Spanish cabinet have been pushing the idea of a new Moncloa Pact, such as transport minister José Luis Ábalos, who said that the offer to join his government in a repetition of the historic agreement "is open to everyone."
Describing the current crisis as a "challenge that is equally important" as the one Spain faced in the 1970s, Ábalos called on all parties, including Catalonia's pro-independence parties, to show "unity of action" and "democratic commitment."
Interior minister Fernando Grande-Marlaska also argued for a new Moncloa Pact to help bring about "social and economic reconstruction" once the health crisis is over, insisting: "It won't be easy but if it could be done in 1977, it can also be done now."
Sánchez's partner in government, Unidas Podemos, also supports the idea, with party leader and Spanish vice president Pablo Iglesias pledging to "reach out to all political parties" in bringing about "major consensus in Spain" to provide a common front to face the crisis.
Spain's main opposition party lukewarm to the idea
However, for such cross-party agreement to have any chance of succeeding, Sánchez's executive will first have to bring on board the main opposition party in Spain that it replaced in government, the conservative People's Party (PP).
That could be easier said than done. PP leader Pablo Casado reacted to the proposal of a new Moncloa Pact by saying the idea "doesn't sound very sincere," and he pointed out that Sánchez had not contacted him, despite the PP providing its support in the current crisis.
Casado also said there is no need to look back to the past, that Spain is now an established democracy within the European Union, and he argued for "defending the democratic institutions, the political, economic, and labor system to overcome the crisis."
Yet, the idea of a new Moncloa Pact has been received with more enthusiasm by other parties in the Spanish parliament, with the head of the center-right Ciudadanos party (Cs) Inés Arrimadas claiming that the original idea was hers.
Before Sánchez made his proposal, Arrimadas had already sent him a letter on Saturday proposing a "major national agreement" along the lines of the Moncloa Pact, which she has dubbed a pact of "national reconstruction" to overcome the coronavirus crisis.
"Our parents' and grandparents' generation were able to unite beyond ideologies to overcome the worst circumstances," said Arrimadas, who added that Sánchez's government should seek consensus on "moderate, reasonable and sensible" measures.
Skepticism from Catalonia's pro-independence parties
If Sánchez's executive has its work cut out in overcoming ideological differences and bringing all Spanish parties to the table, it will have to redouble its efforts to convince Catalonia's pro-independence parties to overlook their aim to split from Spain.
The Catalan government, which is composed of the Esquerra Republicana (ERC) and Junts per Catalunya (JxCat) pro-independence parties, appeared somewhat skeptical of the idea of a new Moncloa Pact in its official reaction to the proposal.
Stating that consensus could only be possible if carried out "with the agreement of Catalonia," the government spokesperson warned that if the aim of the proposal is to "further recentralize the state" then the Catalan government "will have no part of it."
JxCat's spokeswoman in the Spanish congress Laura Borràs also said her party will listen to proposals "to help find a way out of the economic crisis" but added that if the idea of a new Moncloa Pact is "to rethink a national project for Spain, then don't count on JxCat."
As for ERC, which struck a deal with Sánchez that helped him to the presidency, it rejects an agreement with other parties, warning that a "Grand Coalition" would be to make "the same old mistake of bailing out the banks and the powerful instead of citizens and families."
Congress' appetite for cross-party consensus will get its first test on Thursday when the Spanish parliament votes on Sanchez's proposal to extend the state of alarm for another 15 days. While that is likely to pass, any new Moncloa Pact still seems a long way off.