No Covid waves, mental health, talks with Spain, climate, language: Catalonia 2022 challenges
Country aims for return to old normal, further economic recovery, political stability, and a decision on 2030 Olympic bid this year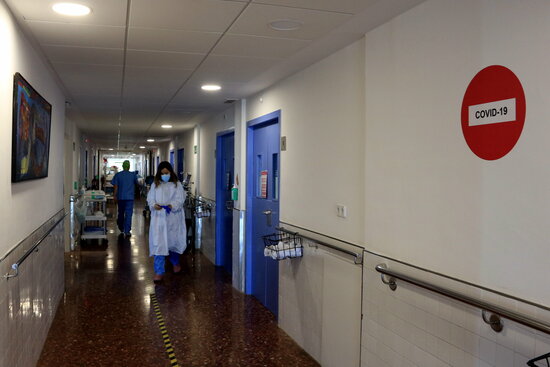 Having a look back at Catalan News' 2021 overview published exactly one year ago, you can notice that progress was made in some important areas, while other issues and hot topics remain firmly stuck.
Covid vaccinations have proved a success, with Catalonia having one of the highest rates in the world, but if one year ago we were about to face the third wave of infections, 12 months later we are witnessing the sixth and counting.
The economy has grown more or less as expected in January 2021, but major events such as the Mobile World Congress or music festivals were, if held, tiny compared to the usual standards.
In politics, Catalonia did have a government after the February 14 election, as the pro-independence parties retained power, but the internal rows and lack of parliamentary majority mean the specter of a snap election is constantly hovering. Jailed independence leaders have been pardoned, but the fate of exiled leaders including Carles Puigdemont is still unknown.
And in sports, the main aim of the year, to keep Leo Messi in Barcelona, failed miserably, and Barça fans will still need a long time to lick their wounds.
What is certain is that some of last year's topics, not least Covid-19, remain among the main stories to watch out for in Catalonia in 2022:
1. Covid-19 waves and/or back to old normal
The scientific consensus leads us to think that Covid-19 will probably stay with humans permanently, but the aim is to turn it into an endemic, rather than pandemic, disease.
The sixth wave has seen an explosion of cases, but with far lower mortality rates than previous ones – at least among those vaccinated.
Catalonia faces the challenge of keeping the rollout going and the population motivated to receive booster shots, as well as reaching the 1 in 5 residents who have not had any jab as of yet.
The aim for 2022 is to prevent more waves from bringing hospitals close to a standstill and to make Covid-19 compatible with a return to something close to the old normal.
2. Restrictions vs economy vs mental health
Restrictions are in place again as the year kicks off, with the third curfew in two years, the closure of nightclubs, a cap on gatherings, capacity restrictions, and strict travel rules.
The joint goal of the public and the authorities is to avoid the need for more draconian measures in 2022 – after two years, restrictions dragging on in order to reduce transmissions could at the same time put the economic recovery at risk and cause further increases in mental health problems.
GDP is estimated to grow 6.4%, continuing the 2021 trend, to reach pre-pandemic levels, according to the Catalan government – returning to the 2019 situation is also the aim in terms of unemployment, with fewer than 11% of the workforce jobless.
As for mental health, authorities are increasingly focusing on this side effect of the pandemic, but dealing with it adequately will also be a challenge in 2022.
3. Political stability and talks with Spain
Will we be anticipating a snap Catalan election in the 2023 overview in a year's time? Will one already have been held? The next Catalan vote is due in February 2025, but no one can rule out an early visit to polling stations. Why? Because the government is not only a minority in parliament, but also the two coalition parties are often at odds, especially on whether talks with Spain are worthwhile.
Esquerra, leading the cabinet, is convinced this is the only way out in order to have an internationally-recognized independence referendum, but Junts – the junior partner – has always been skeptical. They did not attend the first round of talks and favor a more "confrontational" attitude towards splitting from Spain.
With Spain's president having shelved the talks to focus on the health crisis for the moment, if no outcome is reached in 2022, instability could return to both Catalan and Spanish administrations – especially because an electoral period begins again in 2023 and all parties will want to boost their own agenda.
4. 'Quo vadis', independence campaign?
Almost a year ago, the independence campaigners welcomed its highest vote share in an election ever: 51.16%, surpassing the 50% threshold for the first time. Yet, they are also as lost as ever on the way forward in their quest for a Catalan republic. Waiting and campaigning to increase support, talks with Spain, a "peaceful confrontation", and organizing another unilateral referendum like the one in 2017: there are loads of proposals at the table, but none with consensus – and it often appears that consensus is actually not even sought for, but rather internal disputes.
Meanwhile, the pardoned leaders will most likely have to wait until at least 2023 to get their long-awaited European Court of Human Rights verdict on their appeal to the decade-long prison sentences they were given for the 2017 events.
And at the same time, former president Puigdemont and other exiled leaders managed to freeze their extradition processes until the EU court has its say on their waivers as MEPs and on the legality of the European arrest warrants, but things will move one way or another in 2022.
5. Climate: global, but also local issue
The fight against climate change is not only up to Catalonia, but it is a matter that does have to be addressed locally. Whether or not the decree on renewable energies is effective will be seen this year, with Catalonia well behind the Spanish average in generating such power.
Spats between administrations and local communities over the launch of wind farms might have to be resolved if progress is to be made, as an industrial transition towards greener production is also key. Catalonia seeks to host Volkswagen's future vehicle battery factory that will be set up "close to" the Seat plant in Martorell – we might know its final location this year.
6. The future of Catalan system in schools, at stake
The forty-year-old Catalan language immersion system in all schools (except private ones) is at risk. Spain's Supreme Court has imposed a 25% quota for teaching in Spanish, and unionist parties continue to lobby to put an end to Catalan being the only working language in classrooms.
The judges' decision should be implemented within the first quarter of the year, but the Catalan government has no intention of complying, arguing that it refers to a law that is no longer in force.
The situation of the Catalan language, not just among children but in general, is set to be one of the hottest topics of the year, as studies suggest a steady decline in use.
7. Barça's comeback from the dead and 2030 Olympic bid
FC Barcelona's 2021 'annus horribilis', especially from an institutional and financial point of view, could either improve or continue, partly depending on its men's football team's performance in 2022 – the women's squad are the current European champions. A comeback from the dead is what fans are hoping for, but with little money available for transfers, waiting for young talent to grow and step up looks to be the only short-term solution.
Meanwhile, the Barcelona-Pyrenees 2030 Winter Olympic bid will either move forward or else be dropped this year, as a referendum on the matter is expected. Both in the Pyrenees and across the country, the enthusiasm of some contrasts sharply with the criticism of others.