Volkswagen confirms intention to manufacture electric cars in Catalonia
German carmaker's plans subject to governmental support foreseeing production from 2025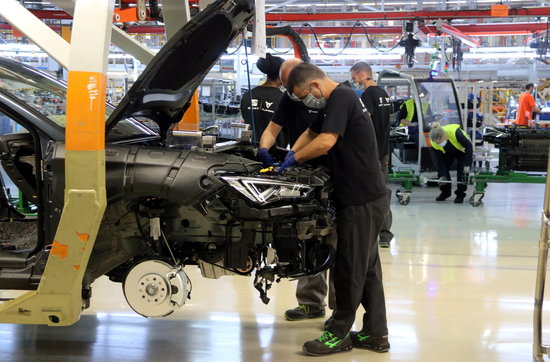 Volkswagen has confirmed its intention to manufacture an electric car at Martorell's plant, northwest of Barcelona. The goal is to start fabrication in 2025 but it depends on the "general conditions and the governmental aid," as stated at a press conference on Thursday.
These resources by the executive are part of the recovery plan announced by the Spanish government using European recovery funds. In fact, the European Commission approved Spain's request of around €3 billion for the Strategic Projects for Economic Recovery and Transformation (PERTE), on Thursday. These projects are part of the industry transformation and are a key factor for Volkswagen to manufacture in Catalonia.
Catalan President, Pere Aragonès, said after the announcement from the German company that "Catalonia is a referent towards sustainable mobility," and celebrated the investment of around €5 billion up to 2025.
Catalunya és motor i referent de la transició cap a la mobilitat sostenible. L'anunci de Grup Volkswagen de fabricar el #VehicleElèctric a Martorell és un gran impuls. Amb la previsió de nous models, concebuts i dissenyats a Catalunya i amb una inversió de 5.000 M€ fins al 2025. https://t.co/t1YFB1OCfu

— Pere Aragonès i Garcia 🎗 (@perearagones) December 9, 2021
SEAT towards electric vehicles
A public-private partnership between carmakers SEAT, Volkswagen, the electricity company Iberdrola and the Spanish government was launched in March, in a joint effort to build a battery factory and boost the use of electric vehicles.
The plant would be built "near" the town where the SEAT headquarters are located, Martorell, outside Barcelona. But, as of yet, it is not clear whether that means building it in Catalonia or in any nearby territory.
However, Catalan business minister, Roger Torrent, has publicly shown the government's interest in the investment.
SEAT's 500,000 electric vehicles goal
In March 2021, carmaker Seat, which is part of the Volkswagen group, set a goal of manufacturing500,000 electric vehicles per year at the company's plant in Martorell.
The Volkswagen announcement arrives months after Seat presented its plans to launch a new urban electric car in 2025 that will cost between €20,000 and €25,000.
Where the production plant for this vehicle will be located will be announced "in the coming months," said Wayne Griffiths, the company's chairman back in March, adding that this will also depend on both the EU and Spain.
"We need the support of the Spanish government and the European Commission," Wayne stressed. "This is not important only for us, but also for Spain and the European Union."