EU court provisionally denies immunity to Puigdemont but says he should not be arrested
After detention in Sardinia, former president requested privileges to be returned while appeal on his immunity waiver is discussed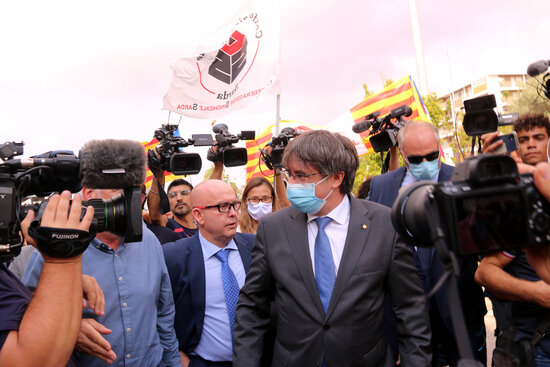 The EU court again provisionally denied returning parliamentary immunity to Carles Puigdemont on Friday.
Yet, at the same time, the judges in Luxembourg insisted that the former Catalan president, along with the other two pro-independence exiled MEPs Toni Comín and Clara Ponsatí should not be arrested or extradited until a decision on their waivers is made.
Magistrates had already stated the same on July 30, but Puigdemont was later detained for almost a full day on the Italian island of Sardinia on September 23 and 24.
Pending EU court decision on immunity
After Puigdemont, Comín and Ponsatí had their immunity as Members of the European Parliament (MEP) lifted in March 2021, their legal team appealed against the decision made by a majority of the parliament members before the EU court. In June, he recovered his parliamentary privileges, before then losing them again in July in a provisional decision that made Puigdemont's defence team believe that arrest warrants against the former Catalan president were suspended.
Yet, when judges made that decision, they suggested that privileges could be provisionally granted again if Puigdemont faced the risk of arrest. Thus, following his detention, the politician's lawyers requested the EU Court to recover his immunity on October 1, pending a final decision on the issue.
This legal move by the politician took place a few days after he was arrested on September 23 in Sardinia.
The European Court of Justice has yet to decide over their appeal against the lift of their immunity as MEPs. Whether such waiver was upheld, their extradition procedures would be very likely to continue, pending also a decision of the same court on some clarification by Spain over extraditions.
When the three had their immunity as MEPs lifted in March 2021, Supreme Court judge Pablo Llarena requested clarification to the EU court on how to issue EU arrest warrants in order to avoid being defeated again. Whilst this is still being considered by the top court in the Union, discrepancies have arisen on whether at the moment the extradition requests are active or not.
Why is Puigdemont wanted by Spain's judiciary?
He was the Catalan president in 2017 and the person who decided to go ahead with an independence referendum despite Spain not authorizing it. During his last day of mandate before being sacked by the Spanish government, on October 27, 2017, independence was declared in parliament.
Three days later, he was included in a criminal case put forward by the public prosecutor for the independence push, but while this lawsuit was announced, the very same day it was learned that he had gone into exile in Belgium.
Spain's judiciary has been unable to extradite him or any other exiled pro-independence leader for over four years because neither Belgium, Germany, Italian or Switzerland have accepted it.
Check out this Catalan News podcast published in October 2021 for all you need to know about Puigdemont's exile and recent arrest in Sardinia.