A wind farm off the Costa Brava? Locals aren't too sure
Companies claim Parc Tramuntana could generate 90% of Girona's energy as Catalonia struggles to meet renewables target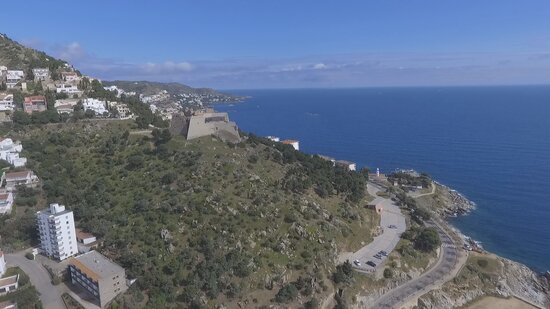 The equivalent of 80 Eiffel towers and 25,000 FC Barcelona football fields. This is how a group of Alt Empordà county locals describe plans to construct Parc Tramuntana, a floating wind farm in northern Catalonia's Gulf of Roses, some 14 kilometers off the coast.
And yet, Catalonia desperately needs to go green as it struggles to meet its energy targets. 50% of all energy consumed should come from renewable sources by 2030 - a figure that needs to increase to 100% by 2050 according to the 2017 Catalan climate change law.
In 2020, only 19.8% of the energy produced in Catalonia came from renewables. A year earlier Catalonia's 16% paled in comparison to Spain's 36.9% and the EU average of 35.1%. Still heavily reliant on nuclear power and lagging behind Europe, could wind farms like Parc Tramuntana the way forward for Catalonia?
Parc Tramuntana: a solution to Catalonia's climate troubles?
SENER and BlueFloat Energy, the companies that hope to get this project running by 2026 with the help of the EU's Next Generation funds, claim it would eventually be able to generate 90% of the Girona area's energy needs after creating some 6,000 jobs during its initial construction phase.
"The main target of this is to contribute to the fight against climate change," Sergi Ametller, the Parc Tramuntana project director, contends. "We want to generate green energy close to the coast here in Girona."
Well aware of the local community's objections, Ametller says there will be financial compensation for affected businesses in the event authorities do give Parc Tramuntana the go-ahead and insists the wind farm's impact would be "minimal."
Opposition from local community
But an eclectic and very vocal group of locals are fiercely opposed to SENER and BlueFloat's plans.
Fishermen, for one, fear the impact this could have on their livelihoods, and while the companies behind the Parc Tramuntana project claim that the wind farm would be located in an area where fishing is already prohibited, fishermen counter that they have voluntarily and only temporarily stopped fishing there in order to restore the hake population.
"The fishing sector will be the most negatively affected because it impacts where we work," says Antoni Abad, the head of the Roses Fishermen's Guild. Abad claims he is aware of the need for eco-friendly energy sources, emphatically citing a recent TV3 documentary on the Chernobyl disaster, but is not convinced by Parc Tramuntana.
"We're not against renewables," he says. "But we think they should be more careful about it because they can end up making a mess and that's the last thing anyone wants."
Others believe a large wind farm will keep away the tourists their businesses rely on. Pedro Pérez, who runs the Marina Estrella boat dealership in Empuriabrava, puts it bluntly. "We depend on tourism. I think this will damage the image of foreigners who come to Spain in search of idyllic landscapes," he says.
Like the others who have spoken out against SENER and BlueFloat Energy's Parc Tramuntana, Pérez maintains that he is, in fact, "in favor of renewable energy." The issue, as he sees it, is that these power plants "need to be agreed on with locals and not imposed by Madrid or elsewhere."
Similarly, Rudi Rom, a hotel manager in Roses whose family runs a seafront restaurant, argues that a drop in tourism will have far-reaching effects. "It is not only a restaurant like this one that would be affected, but it is the whole industry behind it," he maintains, bringing up the example of carpenters who spruce up vacation homes.
Environmental impact
The local business sector's unlikely allies in this affair, environmental groups such as IADEN-Salvem l'Empordà group have spoken out against Parc Tramuntana too.
"It is large and far from the main areas of consumption. What we would like is to promote self-supply," says the group's spokesperson, Raúl Domínguez, who argues that smaller and more spread out energy generation sites would be key.
Not only does IADEN-Salvem l'Empordà think that a large wind power plant is all but certain to serve the interests of oligopolies, but they also believe it could—despite producing renewable energy—still have an adverse impact on wildlife migration patterns.
"Although the specific area where they hope to build the wind farm is not protected, we still need to remember that even though there are delimited wildlife areas on a map, these animals do not always stick to the same exact route," Domínguez asserts. "To say the wind farm will not have an environmental impact because it is not located in a protected area is not entirely true."
Catalonia, and indeed the rest of the world, is currently at a crossroads. Although the reality of climate change and the need for carbon neutrality are no longer up for debate, important decisions are being made right now about what this green transition will look like.
Podcast
Press play below to listen to the podcast on the debate around the Gulf of Roses wind farm.