Catalonia sees over 60k jobs created in third quarter
Unemployment rate drops to under 11% between July-September as post-pandemic recovery continues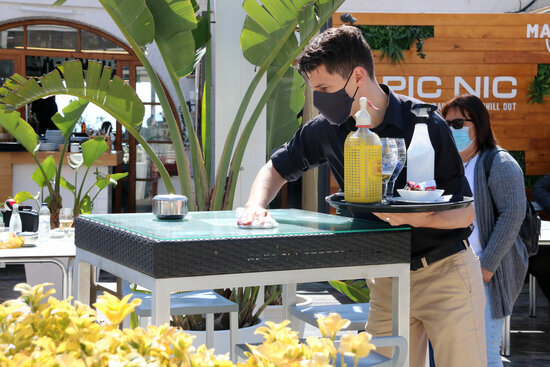 The economic recovery following the Covid-19 pandemic is still showing positive signs of recovery in the latest data released on Thursday by Spain's quarterly labor force survey (EPA).
Catalonia created 62,300 new jobs in the third quarter compared to the second, which saw the unemployment rate drop to 10.92% - practically the same levels as 2019 when it was at 10.87%.
The third quarter of 2021 saw 155,000 more people employed compared to the year before.
In total, there are 3,479,400 people employed in Catalonia according to the latest figures.
There were 426,700 jobless between July and September of this year, a quarterly decrease of 51,900 people and a drop of 79,900 people over the previous year.
All in all, the number of people out of work is higher by 4,600 people this year compared to 2019.
Catalan business minister Roger Torrent, but stressed the importance of equitable growth. "If the economic recovery is not accompanied by fair jobs and wages, social inequality will be cemented," he said.
For all of Spain, the number of unemployed people fell by 127,100 in the third quarter compared to the previous three months, with a total of 3,416,700 people out of work.
In the last twelve months, unemployment has fallen by 306,200 people. The unemployment rate stood at 14.57%, down by 0.69% from the previous quarter and down 1.69% from last year.
The number of people in employment in all of Spain reached 20,031,000 in the third quarter, an increase of 359,300 compared to the previous quarter and 854,100 people compared to the same period the previous year.
Inflation rises to 5.5%
Prices across Spain have continued to rise due to the supply chains crisis and are now reaching record figures.
According to data released this Thursday by the National Statistics Institute (INE), the Consumer Price Index (CPI) will grow by 5.5% year-on-year in October, the highest rate seen since September 1992.
The rise in inflation is due to the skyrocketing prices of electricity and, to a lesser extent, to changes in imports of fuel and gas.
As for the underlying inflation rate not taking into account energy products and unprocessed food, it will grow by four-tenths in October and stand at 1.4%, which means that the consumer is now bearing the burden of the rise in prices.