Covid-19 booster shots for senior care home residents from Friday
Spain has approved third doses for elderly and immunocompromised people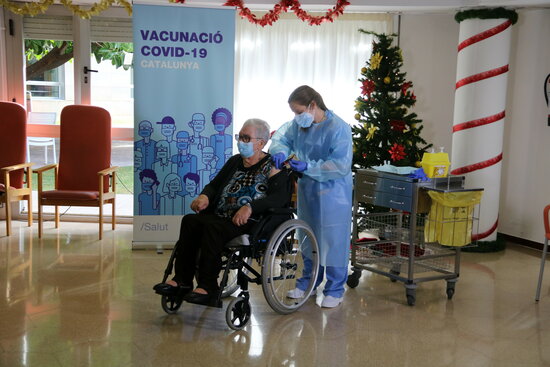 Catalonia's nursing home residents have begun to receive Covid-19 booster shots on Friday.
This comes only a day after Spain approved third doses for elderly care home residents over fears of their waning immunity against the virus.
After some confusion regarding when this would begin – initial reports stated booster shots would be administered from October 4 while others said they would next week – Catalonia's health authorities ultimately decided to start doing so on Friday.
The first people to get their third Covid-19 vaccine doses were the residents of L'Hospitalet de Llobregat's Feixa Llarga care home – the same place where the vaccination campaign kicked off last winter. On December 27, 2020, octogenarian Josefa Pérez became the first person in Catalonia to receive a dose before becoming the first nursing home resident to get a booster shot on September 17.
Catalonia's vaccine rollout continues to progress, albeit at a much slower rate than before the summer. As of September 16, 5,835,260 (70.9% of the population) is considered to be fully immunized – barely over 1% more than exactly a week ago – and health authorities say they have plenty of leftover doses that they could be administering.
5,835,260 residents have been given the first dose of the vaccine, 73.7% of the total population. Out of those, 4,943,232 have also been administered a second dose (62.6% of the total population).
Booster shots for immunocompromised people
Spain greenlighted third doses for immunocompromised people just over a week ago, meaning that solid organ transplant recipients, those who have received hematopoietic stem cells due to diseases such as leukemia, or people who are being treated with anti-CD20 medicines have been able to begin receiving booster shots. MRNA vaccines, such as Pfizer or Moderna, will be used for all three sets of patients.
Third jabs will be administered 28 days after second doses, but patients have to wait six months after finishing their treatment before they can get them.
Vaccines going bad
Health authorities warn that some vaccine doses have already expired and others are about to go bad, after an expected increase in appointments following the summer holiday didn't occur.
"We expected the number of people booking Covid vaccine appointments to increase in September, but this didn't happen," said Public Health secretary Carmen Cabezas on Friday.
Vaccines are kept at freezer temperature. Once defrosted, they should be administered within 30 days.
Covid-19 vaccination progress per priority group