Protests for Ukraine continue as 'Stop the War' calls demonstration for Wednesday
Hundreds in central Barcelona voice opposition to Russian invasion for sixth evening in a row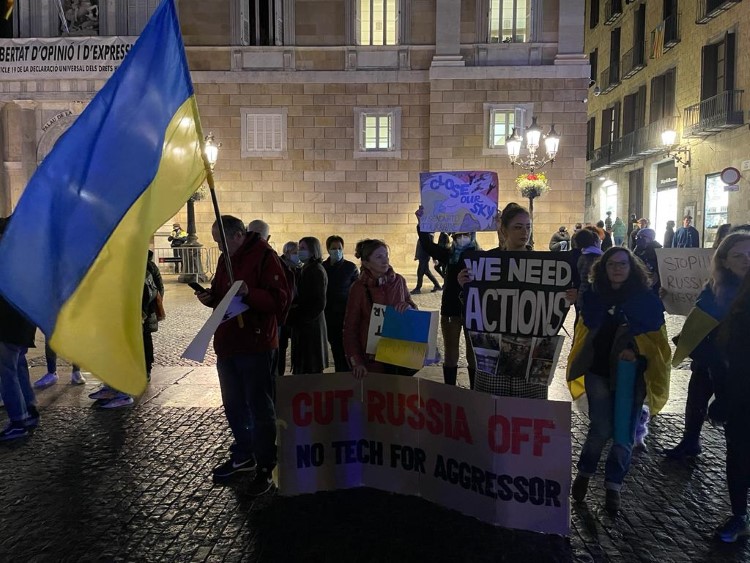 For the sixth day in a row, crowds gathered in central Barcelona to show solidarity with the Ukrainian people and protest against the Russian invasion of their country.
Around 200 turned out in Plaça Sant Jaume on Tuesday, including various political figures.
📽 | Barcelona sees a sixth consecutive night of demonstrations against Russia's invasion of Ukraine. Around 200 gathered at Plaça Sant Jaume in support of Ukraine

📖 | More: https://t.co/n0l0ME6haG pic.twitter.com/A72s9BMNtd

— Catalan News (@catalannews) March 1, 2022
An even bigger protest is being planned by the Catalan anti-war platform Stop the War (Plataforma Aturem la Guerra).
The pacifist group are calling for a demonstration at 6.30pm at Plaça Catalunya on Wednesday under the banner 'No War' (No a la guerra).
In a statement released on Tuesday they urged all parties to "reduce the militarization of the Ukrainian conflict to avoid war," a sentiment not totally aligned with the crowds protesting over the past few days, some of whom have been chanting for "military support for Ukraine now."
Stop the War say that Western Europe and NATO's responsibility in Ukraine is "not minor, having helped pro-Western Ukrainian politicians and contributed to the militarization of the country and the region, in the same way as Russia is responsible for its totally unacceptable military actions to gain control of the Ukrainian regions where pro-Russian communities exist, mainly in Crimea and the eastern part of Donbas (Luhansk and Donetsk)."
"We need actions"
The mood in Plaça Sant Jaume on Tuesday evening was more subdued than at previous protests.
With the demonstration taking place outside the Catalan government and Barcelona City Council headquarters, it was perhaps no surprise to see several politicians in the crowd, including parliament speaker Laura Borràs and Barcelona deputy mayor Jaume Collboni.
Some of the demonstrators waved Ukrainian flags and held up placards saying "Cut Russia off", "We need actions" and "Stop Russian aggression".
Marches and hunger strikes
Tuesday's protest was the sixth consecutive day of demonstrations in Barcelona by the Ukrainian community.
Not long after the news broke that Putin's forces had begun their invasion, protests began outside the Russian consulate on Thursday morning. Some Russian nationals also attended the demonstration holding anti-war posters and chanting anti-Putin slogans.
Demonstrators then marched through the city center, making their way down La Rambla boulevard to Plaça Sant Jaume, the square where the Barcelona council and Catalan government headquarters are located.
Protests continued on Friday, before larger demonstrations of around 600 to 700 people on Saturday and Sunday.
Some people even camped out in Plaça Catalunya square on Saturday night and started a hunger strike, emulating the Maidan revolution seen in Ukraine in 2014.
Humanitarian aid
Meanwhile, the Ukrainian consulate and several groups have launched a network to accept food, clothes, and medicine donations from anyone willing to help. These can be taken to a Ukrainian church at 9, La Rambla, Barcelona.
Trucks have been leaving from there to the Eastern European country.