Ukrainians continue protests in Catalonia against Russian invasion
After numerous demonstrations on Thursday, hundreds gather again in Barcelona on Friday to denounce Putin's military actions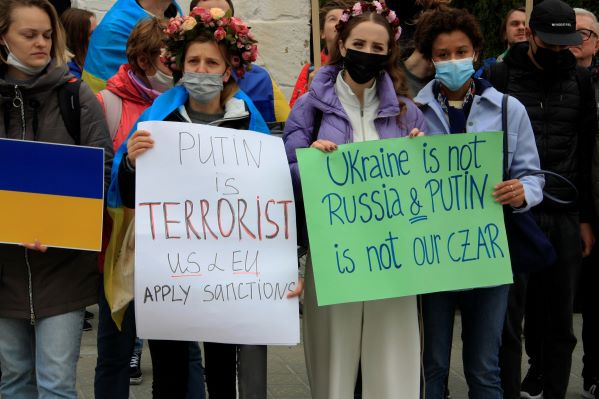 Around 200 people have gathered in Plaça Catalunya in Barcelona on Friday to denounce the Russian invasion of Ukraine, while a further 50 people protested outside the Russian consulate.
Demonstrations began on Thursday morning after Russian president Vladimir Putin's military entered Ukraine, and hundreds of Ukrainian nationals have resumed protests again on Friday.
Some signs held by protesters urged for stronger sanctions from the EU and US on Russia. Others called Vladimir Putin a "terrorist" and called for freedom for Ukraine.
Meanwhile, organizers say a "massive" demonstration is planned to take place on Saturday at Plaça Universitat in the center of the Catalan capital.
The protests continued on Friday evening in the city center, at Barcelona's Plaça de Catalunya square with a few hundred protesters.
Some of these protesters hold signs asking to "kick Russia out of the SWIFT," the international banking system to make secure cross-border payments. Some others requested "military support for Ukraine now!"
Members of the Ukrainian community have gathered once again in the center of Barcelona to denounce Russia's invasion of their country

"Putin, retreat! Ukraine wants peace!"https://t.co/EcBlo8GUpY pic.twitter.com/02owsDZbBW

— Catalan News (@catalannews) February 25, 2022
Thursday saw demonstrations outside the Russian consulate in the morning, just hours after the invasion had began, and a larger protest in the center of Barcelona in the evening.
Catalonia is home to around 25,000 Ukrainians and the increasing tension between Russia and their native country is worrying them. Some have been living in Barcelona for over 20 years but still have family and friends in Ukraine.
Emotional days
Thursday and Friday were emotional days for Ukrainians living in Catalonia watching their home country be invaded from afar.
There was a peaceful yet sombre atmosphere in front of the Russian consulate on Thursday, with some protesters in tears as people expressed their shock and sadness. Many of them had been fearing this situation for the last few days.
Ukrainian protester Andriy Oliynyk was amongst those overwhelmed by today's developments. "This morning I started crying because all my relatives live there," he told Catalan News. "People lived together for centuries and there was brotherly love. It's neighboring countries. There's no need for any war."
Later in the evening, around 300 Ukrainian residents of Catalonia gathered in the center of Barcelona.
The protest started at Plaça Catalunya before protesters made their way down La Rambla boulevard and then to Plaça Sant Jaume, the square where the Barcelona council and Catalan government headquarters are located.
Many of the group chanted anti-Putin slogans and sang the Ukrainian anthem and other traditional songs.