Center to collect humanitarian aid for Ukraine launched in Barcelona
Medicines, long-lasting food and warm clothes are the priority of initiative headquartered on Catalan capital's La Rambla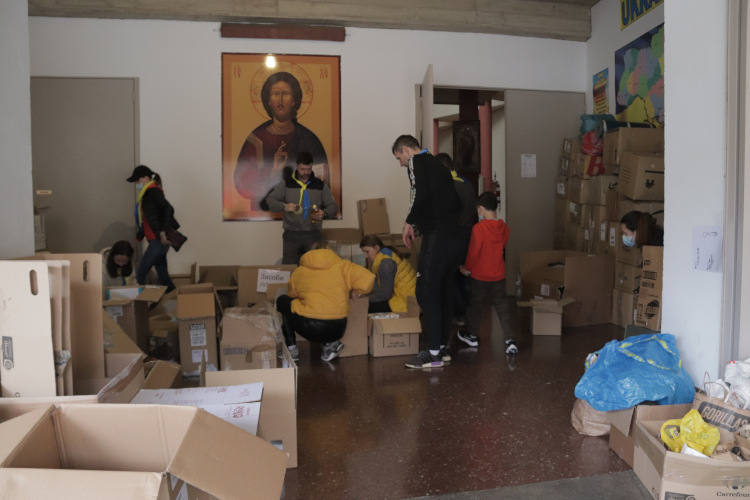 Canned food, tea and coffee, children's clothes, powdered milk, paracetamol, sleeping bags, blankets, diapers, toothpaste… Everything is accepted in Barcelona's Ukrainian Greco-Catholic church (església de Sant Josep i Santa Mònica), located on 9, La Rambla boulevard.
Every day, from 9 am to 7.30 pm, dozens of volunteers cooperate in order to receive, organize and ship material to the Eastern European country.
"From here is where the trucks actually leave, this is the epicenter. If people want to bring stuff most directly, they can come here," says one of the people involved, Catalina Girona, an American-Catalan woman who is married to a Ukrainian man also living in Barcelona.
She tells Catalan News that medicines, non-perishable food and warm clothes are the priorities, and shows us a comprehensive list of items sought which also includes hats, gloves, socks, chocolate, instant food, ibuprofen, antibiotics, bandages, syringes, and camping gas canisters.
The Ukrainian consulate and several entities such as 'Sonrisas de Ucrania' and 'Djerelo' are organizing the initiative, and several trucks have already left for Ukraine through Poland, all by road. "The first one carried around 50 boxes full of material," explains Girona, who says that money is also needed.
The church in the lower part of La Rambla is where ultimately all the material is stored, but other centers collecting humanitarian aid in the city include the Ukrainian consulate, in 185, Numancia street, and Nostra Senyora del Perpetu Auxili church in 100, Balmes.
Also, the Ukrainian school Shevchenko (also seat of the association 'Txervona Kalyna'), in 9, Enric Bargés street, in Barcelona, is open on Saturdays from 3 pm to 6 pm, while the seat of the Association Taras Shevchenko (69, Josep Miquel Quintana street, in Esplugues de Llobregat) is open every day until 8 pm and the Ukrainian school 'Mriya', in Barcelona's 15, Pont de Treball Digne street is also up and running for humanitarian aid from Monday to Saturday until 6 pm.
Girona's husband, Andrii Antonovski, is also involved in the campaign and, speaking with Catalan News, he says that all material donated must be "long-lasting" and easy to transport, such as dehydrated soup, cookies, lanterns, and alcohol to heal wounds.
Antonovski also makes a call for anyone to help the logistics with trucks.
Daily demonstrations
This is just one of the initiatives launched to help Ukraine amid Russia's invasion. Every night, demonstrations to support Kyiv are held at 6 pm in Barcelona's Plaça Catalunya square.
Every night, protesters call on Russia and Europe to "wake up", take aim at the Russian president, shouting "Putin, murderer", and defend the territories claimed by Putin as independent republics, chanting: "Luhansk is Ukraine" and "Donetsk is Ukraine".
On Monday, as evening fell in the Catalan capital, protesters lit candles on the ground, which were placed beside posters and blue and yellow balloons, the colors of the Ukrainian flag.
Some of the people demonstrating are camping in the square, including Ostap and Mykola, who began a hunger strike on Saturday.
73 Ukrainians hosted in Catalan hostels
Solidarity with Ukraine is also seen as the government is providing accommodation for at least 73 people from the Eastern European country.
They are sleeping in sites located in Barcelona, Coma-ruga, Vic and l'Espluga de Francolí. According to the Ukrainian consulate, up to 139 people can be lodged in these hostels.