Ukrainian whose 'heart was suffering' goes on hunger strike against Russian invasion
Mykola and his friend Ostap are camping out in the center of Barcelona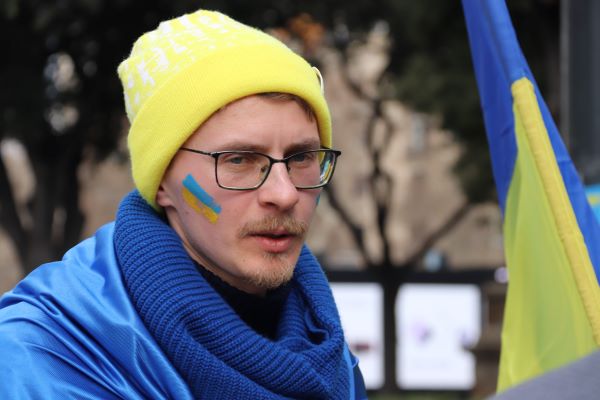 "My parents are there right now and they can hear the bombardments," Mykola, a 29-year-old Ukrainian who lives in Barcelona told Catalan News on Monday. Mykola moved to the Catalan capital almost 7 years ago in search of better economic opportunities. Now he fears for his family back home in his native Korosten, in northern Ukraine, not far from Belarus.
"My brother is also there with his wife, his kid. She is 4 months pregnant. After he evacuated her from the downtown of the city to the more rural area, he came back and he joined the territorial defenses in order to protect the country."
Drawing attention to the crisis
Russia went to war with Mykola's country on February 24, shocking most of the world and prompting widespread condemnation. Two days later, Mykola and his friend Ostap decided to go on a hunger strike. The pair have been camping out at Plaça Catalunya, in the city center, since Saturday.
"We were here [at protests] each day, morning and evening, but that wasn't enough," he said. "It was just a spontaneous decision because you are feeling like you need to do something more because your heart was suffering and when you do whatever you can, then the pain is less. In a way, you feel better when you are suffering than when you are not doing anything."
What do Mykola and Ostap hope to gain from this? They want their actions to "give more attention to the war in Ukraine and to help with everything that can be possible: diplomatic help, military aid, especially against the tanks and the jets, humanitarian aid."
And unlike some, Mykola believes joining both NATO and the EU is essential for the safety of his home country. "Only by being a family with the EU can we be safe and develop and we can be a part of freedom and democracy," he said. Both Ukrainian president Volodymyr Zelensky and EU Commission president Ursula von der Leyen have expressed their willingness to have the country join the union.
Mykola had only fine words for Zelensky. "Before the war, like in every country, you have some people in favor of him and some against him," he said. "But right now he is the same as our soldiers, showing such bravery. For us, he is like almost a god in these times."
A threat to 'freedom and democratic values'
According to Mykola, Russia does not tolerate moves towards democracy in the countries that neighbor it. "The same happened in Georgia. We are good friends and we are so thankful for them. They have the same pain the same heartbreak."
"We already had the dictator before in 2014," he explains. "And the same Ukrainian people made him leave Ukraine — for some reason to Russia. All of us know why Russia because we know whose puppet that was. We don't need intervention from Russia, we can do our business on our own."
He thinks that people in Catalonia may not have mobilized as much as citizens of other particularly countries, especially those in Eastern Europe, because to them Putin is seen as a distant threat — residents "don't feel that threatened personally."
But Mykola argues the conflict in his home country should still be brought to everybody's attention as, he says, it can have far-reaching consequences: "It is not only our fight, but it is the fight of all the people who want to support freedom and democratic values."
The Sant Josep and Santa Mònica church, located at 9 La Rambla boulevard, accepts food, medicine, clothes, and blanket donations from 9 am to 7 pm on weekdays. These will all be sent to Ukrainians in need.