Ukrainians protest outside Russian consulate in Barcelona
Demonstrators joined by some Russian nationals showing their solidarity call Putin a "terrorist" and a "killer"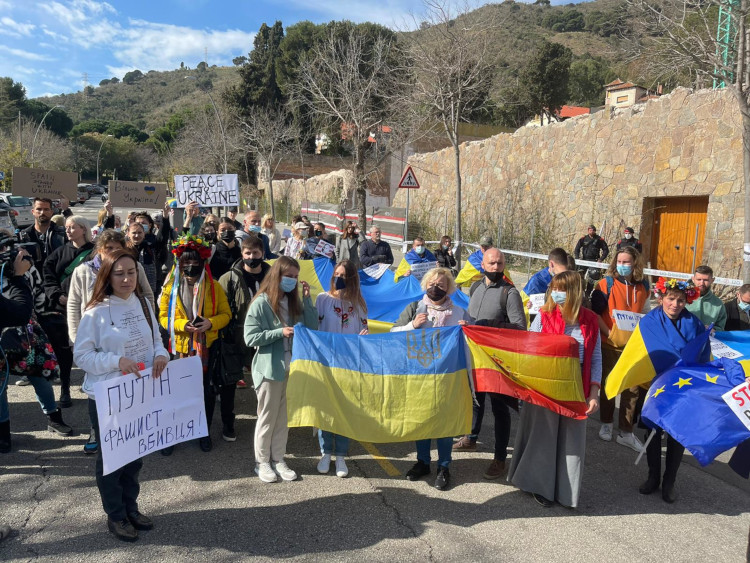 Some 60 Ukrainians residing in Catalonia protested against Russia's invasion of their country on Thursday morning outside the Russian consulate in Barcelona.
By 10 am, a group of people had already gathered near the building in the Catalan capital's wealthy Pedralbes neighborhood, waving Ukrainian flags and carrying signs condemning Vladimir Putin's decision to send troops into Ukraine. The event began to quieten down at around 1 pm.
They sang traditional Ukrainian songs as well as their national anthem throughout the morning and called Russian president Vladimir Putin a "terrorist" and a "killer".
Posters depicting Putin giving a Nazi salute along with the sentence 'We want Nüremberg,' referring to the trials of the Nazi regime's main officials in 1946, were put up.
Some Russian nationals also attended the demonstration holding anti-war posters and chanting anti-Putin slogans.
One of these was Nina Potapova, who said that a war in the 21st century was "crazy" and that there were "a lot of Russian people who don't agree with [Putin's] position, with his regime, and who are suffering also in Russia."
An emotional day
The atmosphere was peaceful yet sombre, with some protesters in tears as people expressed their shock and sadness. Many of them had been fearing this situation for the last few days.
Ukrainian protester Andriy Oliynyk was amongst those overwhelmed at today's developments. "This morning I started crying because all my relatives live there," he told Catalan News. "People lived together for centuries and there was brotherly love. It's neighboring countries. There's no need for any war."
Another Ukrainian living in Barcelona who attended the demonstration, Ganna, denounced the Russian invasion and expressed her fear for the majority of the family who were still living in their hometown, just outside Donetsk, in eastern Ukraine.
She explained to Catalan News that her mother, who was also protesting in front of the Russian consulate, had arrived to Catalonia on Sunday to flee the rising tensions.