Migrant rescue charity joins Covid-19 effort in Catalan care homes
Open Arms is contributing 30 vehicles and more than 70 volunteers to support healthcare teams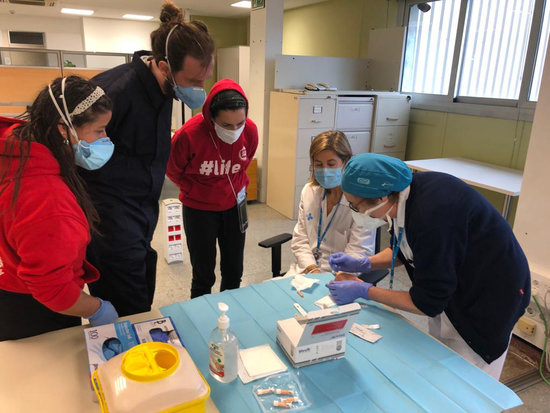 A charity that normally works rescuing migrants and refugees in danger in the Mediterranean Sea has turned its attention to tackling Covid-19 in care homes.
The Barcelona-based NGO Open Arms has joined forces with the Catalan health department to provide support to healthcare teams already working in elderly residencies, which are bearing the brunt of the coronavirus crisis.
From Monday, 30 vehicles and more than 70 volunteers from Open Arms are traveling to care homes, conducting tests and collecting samples, with the aim of detecting cases of the virus early and breaking the chain of infection.
In a statement Open Arms explained that "emergency measures and rapid actions to prevent deaths are a priority," adding: "It is for this reason that our teams join the great efforts being made by the healthcare network since the beginning of this pandemic."
Volunteers from the charity will be active in care homes across Catalonia where at least one positive Covid-19 case has been identified, currently "around 290, with about 20,000 residents."
Open Arms
The Open Arms rescue ship returned to the port of Barcelona in February to undergo a full assessment after suffering from continuous breakdowns. The boat made its last rescue earlier that month, docking in the Italian port of Pozzallo with 363 rescued migrants after several days requesting safe harbor.
In November 2019, Italy offered a safe port to the Open Arms ship after they saved 73 migrants shipwrecked in the western Mediterranean sea. That followed a previous months-long back and forth during the summer when former Italian interior minister Matteo Salvini would not grant permission for Open Arms to dock in the country. After 19 days stranded in the Mediterranean with over 160 migrants on board, the Open Arms rescue ship eventually docked in the Italian port of Lampedusa.
In September 2019, the head of the Proactiva Open Arms NGO, Òscar Camps, was awarded the Catalan parliament's Medal of Honor, along with the captain of the Sea Watch 3 rescue ship, Carola Rackete.