Open Arms rescue ship docks in Barcelona for urgent repairs
47-year-old vessel has rescued more than 6,000 people in 2 years, but is suffering from continuous breakdowns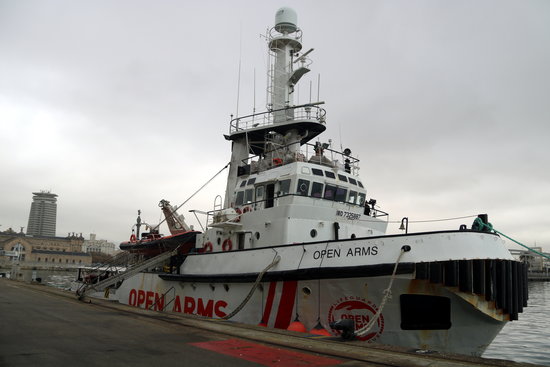 The Open Arms, a 47-year-old ship that has rescued more than 6,000 people in 2 years, has docked in the port of Barcelona to undergo a full assessment.
The charity says that for months the ship has been suffering from continuous breakdowns that is hindering its humanitarian mission in the central Mediterranean Sea and needs urgent repairs, or completely replaced.
On Friday morning, at a press conference on board the ship, the founder and director of Open Arms, Òscar Camps, described the situation in the central Mediterranean Sea and the condition of the vessel, and made a call for support.
"We need to be backed by the public, we need to feel protected by the public, because we are a small community response to a situation that, as I have explained, is the violation of human rights out at sea."
The head of the search and rescue charity was joined by the ship's captain, its chief mechanic and the head of the mission, Riccardo Gatti.
"In order to proceed to rescue again and again we had to stop and restart. In which way we do not really know," Gatti told Catalan News.
"The best solution in order to restart our operation is to buy a new boat because to refit and renew this is a really hard job."
A specialist mechanical team will now make a diagnosis of the damage to the ship's engine to assess its possible repair.
The ideal solution however, according to Open Arms, would be to obtain resources for a new humanitarian vessel to continue with their mission to protect lives in the Mediterranean.
The ship made its last rescue earlier this month, docking in the Italian port of Pozzallo with 363 rescued migrants after several days requesting safe harbor.