Italy offers port to Open Arms, carrying 73 shipwrecked migrants
11 minors and injured already brought to land by the coast guard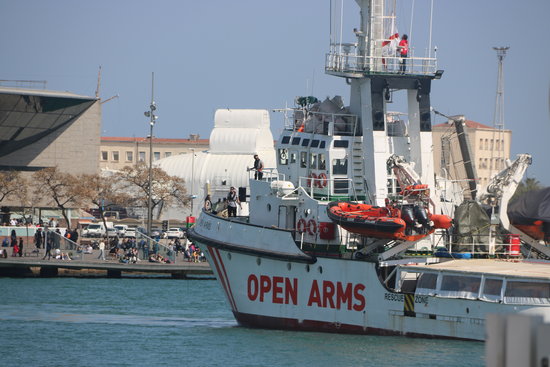 Italy has offered a safe port to the Open Arms ship, after the Catalan migrant rescue ship saved 73 migrants shipwrecked in the western Mediterranean sea.
The head of Open Arms, Òscar Camps, announced the news on Twitter, without specifying which port had been provided.
On Thursday, the award-winning NGO announced that it had rescued 73 migrants on a boat north of Libya and close to the Tunisian border, some of whom were reportedly people with bullet injuries, serious burns, serious hypothermia, dehydration, and traumatic shock.
According to Open Arms, 26 out of the refugees were underage, with all of them but two travelling alone. On Sunday afternoon, it was revealed that the Italian coast guard had brought 11 of the people on board to land, including minors and injured.
Meanwhile, a Norwegian refugee-rescuing NGO, Ocean Viking, also announced on Sunday that it was able to dock 213 people in the Messina harbor.
Catalan parliament's Medal of Honor
On September 11, Camps, along with Carola Rackete, the German captain of the Sea Watch 3 rescue ship of the NGO Sea Watch, was awarded the Catalan parliament's Medal of Honor for "saving thousands of people from imminent death."
According to the International Organization for Migration (IOM), the Mediterranean Sea has now become the world's deadliest border, with some 597 deaths registered so far this year, between January 1 and June 28.
Since 2017, Proactiva Open Arms has rescued hundreds of people stranded at sea, and in January the organization received the Gold Medal for Civic Merit from Barcelona city council, and in 2016 was awarded the EU's European Citizen's Prize.