Catalonia's high-speed train network: 40 daily services to Madrid, two abroad, none to Valencia
Prices cheaper for routes to Spanish capital, but connections to France shrink and cross-border night trains projects frozen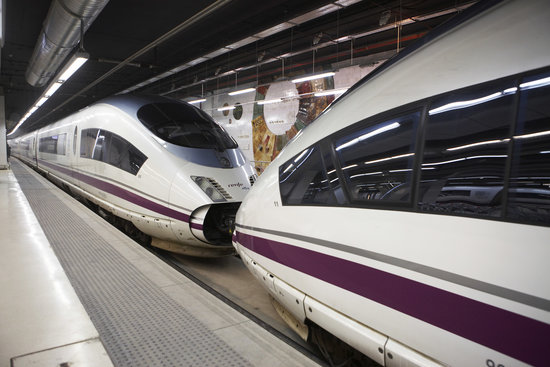 2 hours and 47 minutes is the quickest time to get to Valencia by train from Barcelona – and not that long ago, it would have taken you 40 minutes longer. The route covers 350 km.
Yet, you can be in Madrid, 620 km from the Catalan capital, in 2 hours and 30 minutes with the same means of transport. How can that be possible?
Barcelona and Madrid have been connected by high-speed rail for 15 years, ever since the inauguration of the new tracks in February 2008 – finally a reality after years of major disruptions for commuters due to the construction work.
Indeed, Catalonia has a fairly decent high-speed network, with five high-speed stations: Figueres and Girona in the north, Barcelona, and Tarragona and Lleida in the south and west. At the time of construction, only the station in Tarragona created controversy, as it is the only one not in the city it serves, but actually 20 minutes away by car.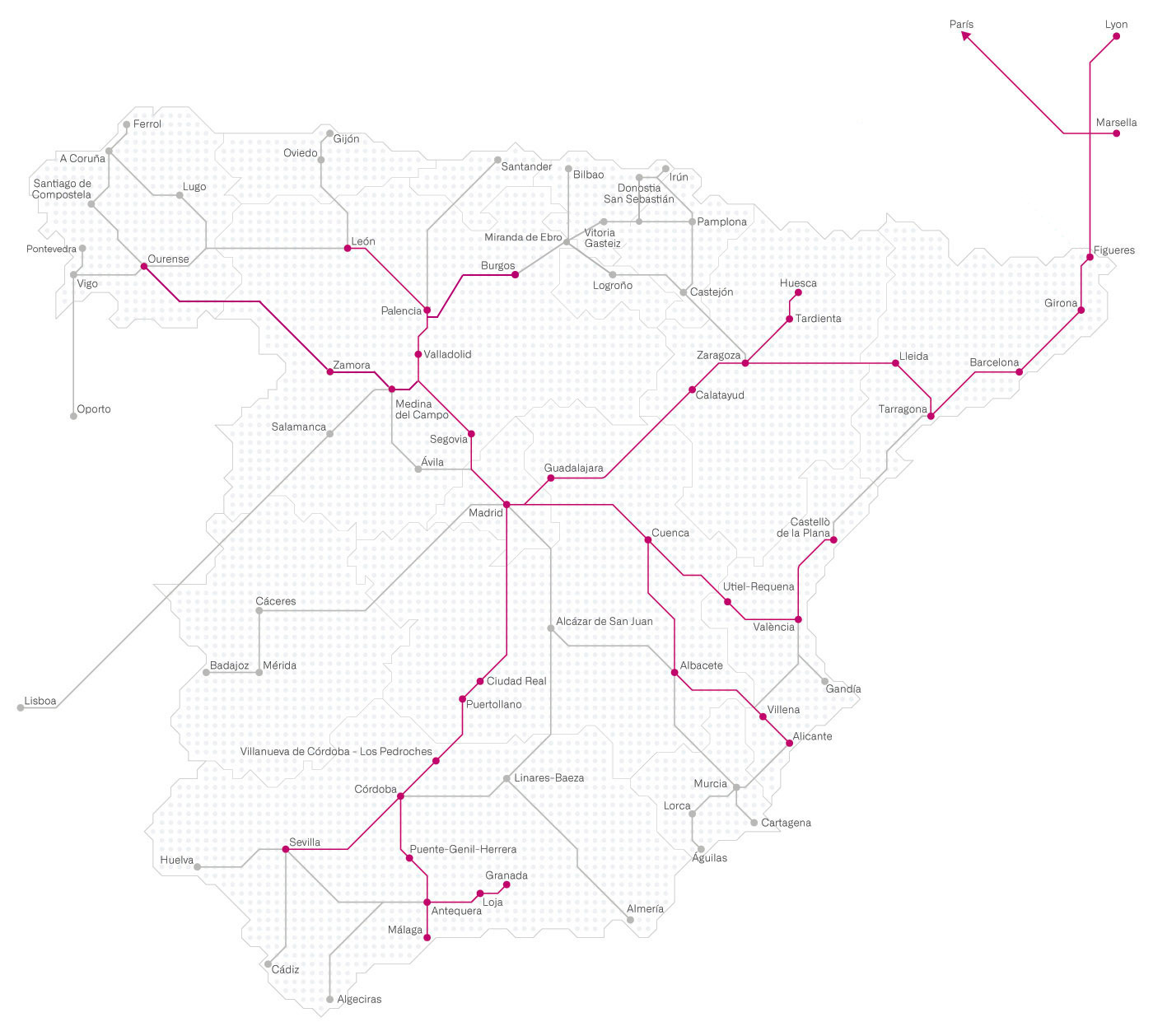 From Barcelona, and sometimes from the other four stations, one can go to cities like Madrid, Zaragoza, and Seville without changes.
Madrid-focused high-speed rail model
Yet, one of the main flaws of the network is that the route along the Mediterranean coast has been in the works for many years, if not decades.
The high-speed train network "has been designed with a focus on Madrid, and the second and fourth cities in Spain are not connected," Adrià Ramírez, president of Public Transport Promotion (PTP) group, said to Catalan News recently.
Ramírez complained about the centralist model that forces anyone willing to travel from Barcelona to Valencia in high-speed trains to go to Madrid and change there.
In November, Spain's transport minister, Raquel Sánchez, said that the so-called Mediterranean corridor would be finished by 2026.
Liberalization prompts tickets as cheap as €10
Yet, it is not all bad news: the monopoly of the state company Renfe to operate on the high-speed network in Spain is now over.
Ouigo, a brand from France's SNCF, and Iryo, from Italy, have joined AVE as operators, from May 2021 and November 2022 respectively.
Indeed, the Spanish public company has had to come up with a low-cost branch, AVLO, to be competitive. Traveling from Barcelona to Madrid can be as cheap as €10 now – the latest offer, due to end on January 29, was launched by Iryo earlier this week with a million flexible tickets at €18 for the whole year.
Network to France (temporarily) shrinks
Barcelona has also been linked with Paris by train for a decade. The Eiffel Tower is 6 and a half hours away from the Sagrada Família with a service now operated solely by France's SNCF with two daily services, after they quit the joint service with Renfe last month.
The Spanish firm though has just been given permission to operate their trains in France and aims to bring back the routes to Marseille and Lyon, discontinued due to the split, before summer this year, as trains and drivers have to be tested for months.
Direct trains to Toulouse were halted during the pandemic and there are no plans to reintroduce them.
While SNCF points to losses of around €10m annually over the nine years it had a cooperation agreement with Renfe to explain their unilateral decision to split, the Spanish company rejects these reasons, saying their French counterparts executed the decision for strategic reasons, once they had permission to operate solely in Spain – thanks to Ouigo services – while Renfe did not in France.
Night trains: a romantic way of traveling difficult to bring back
And what about bringing back long-distance night trains to destinations in Spain or Europe for the sake of the environment?
Catalonia used to have a decent offer of overnight journeys with the rest of Spain and even several European cities, but the introduction of high-speed trains led operators to believe that night services did not make sense anymore.
This romantic way of traveling is still dreamt about by many.
"High-speed lines work really well up to 4 hours, quite well up to 6 hours and night trains work well up to 12 to 14 hours," Ramírez said.
The PTP group thinks that overnight journeys to destinations like Rome, Milan, and Zurich should therefore be possible.
Yet Catalan News has spoken to Renfe and SNCF and both politely rejected any plans for night trains for the near future. A Zürich - Barcelona route for late 2024 was announced by Swiss and Austrian operators in 2020 - yet, they told Catalan News that no financial means have been found. It remains an option for them, but a date is no longer set.
Overnight journey from Barcelona to Paris?
Midnight Trains, an ambitious startup, are the only ones with fairly firm plans to offer night services.
"Most probably our first line will be from Paris to Milan and Venice," Romain Payet, co-founder of the company, told Catalan News. "Then we want to extend by launching one line per year and Barcelona is definitely within the next two."
He said they need two years to test the route, so given that they will not start with services to the Catalan capital, the first trains from Paris to Barcelona, with one daily service per way, may run in 2026 or 2027.
They want to connect Catalonia with Milan, Florence and Rome in the longer run.
Yet, if the project ends up coming to life, prices may not be lower than €150 one-way.
Payet said that an average Easyjet flight is "€100 one-way around Europe," and two cab expenses to and from the airport usually need to be added, plus extra luggage.
Midnight Trains, according to him, will cost more or less the same as all these expenses altogether.
Payet pointed out that their offering will include "a hotel night" aboard the train.
Cross-border routes, a legal nightmare
Both Midnight Trains and PTP believe that planning cross-border routes can be a logistical nightmare.
"Europe is definitely not Europe when we talk about railway. Each country has its own tech requirements, legislation, distribution system... crossing borders with trains is hard," said Payet.
"It feels like that with trains, EU institutions are trying to create what they have achieved with many other topics, but we are not there yet," said Ramírez.
"There is a lot of technicalities, paperwork, even resistance from some stakeholders."
The PTP head also pointed out that the debate is still ongoing over "what should be subsidized, what is public and what is private."
While international flights may be threatened by high-speed trains, a much greener alternative, the reality is that nowadays there are still, for instance, eight flights for every train between Barcelona and Paris.