Train journey time between Barcelona and Valencia 40 minutes shorter
Long-awaited Vandellòs rail bypass opens in southern Catalonia after two decades of work as part of Mediterranean corridor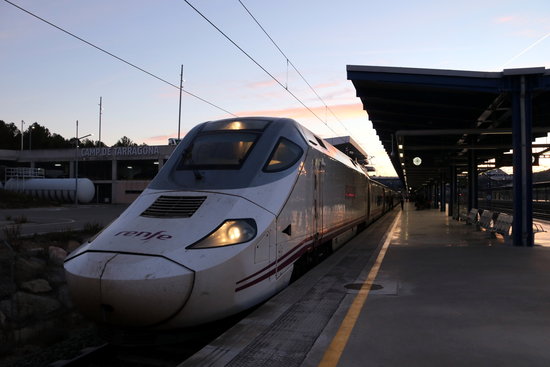 After 20 years and at a cost of 700 million euros, Monday saw the 64-kilometer rail bypass in the south of Catalonia connecting the Vandellòs-l'Hospitalet de l'Infant station with the Mediterranean rail freight corridor finally go into operation.
The long-awaited link between the Camp de Tarragona and Vandellòs-l'Hospitalet de l'Infant trains stations will bring to an end the bottlenecks on the single Vandellòs-Tarragona line, while linking the Mediterranean corridor with the high-speed rail line.
The main advantage of the link, whose construction has experienced many years of setbacks, is that the journey between Barcelona and Valencia will now be 40 minutes shorter and will now take two hours and 40 minutes.
Yet, the new bypass means certain passengers will lose some trains, such as the Euromed high-speed service, which will no longer stop at Tarragona station, forcing passengers to go to Camp de Tarragona station, 12 kilometers outside the city center.
It will also affect places like the popular seaside resorts of Salou and Cambrils, which lose their urban rail services. Passengers from Salou, for example, will have to pick up trains to Barcelona at the PortAventura theme park train stop or in Tarragona itself.