Catalan humorist in court again over additional tweets
Toni Albà, already investigated for slander, reiterates he "only wanted to make people laugh"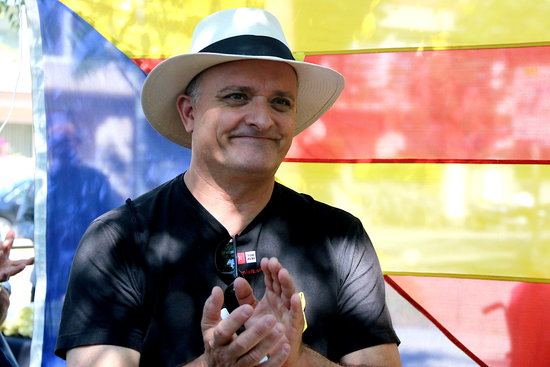 Catalan actor and humorist Toni Albà testified again in court on May 31, in the seaside town of Vilanova i la Geltrú, stating that he "only" wanted "to make people laugh." This, over new tweets—the exact content of which has not been publicly released—which have led to the additional charges of slander he is currently being investigated for.
Albà received a summons after the Spanish police notified the State prosecutor that the actor had shared various tweets, the content of which could be considered offensive against said law enforcement and members of the judiciary.
Statements part of his profession, defends actor
The police notification caused the magistrate to widen the case already open against the actor for previous tweets, over which Albà already testified at the end of January, 2018. The humorist, who resides in Vilanova, insisted that the social media statements are part of his profession as a "buffoon," and apologized if "anybody felt insulted." To the press, Albà divulged that one of the tweets in question was regards the death of the Spanish prosecutor.
The Spanish prosecutor requested that the judge presiding over the case consider it as 'complex,' a change which would allow for the investigation period to be extended to 18 months. Albà's defense challenged this petition.
An ongoing case
Back in January, Albà already testified in the same local court, for tweets regarding the judge in charge of the independence case and Spanish law enforcement. It was then that he said that his work "consists of seeking sarcasm and political satire, imitating and use the freedom of speech" as he knows how, in statements to the press outside the court.
Toni Albà has been impersonating the former Spanish king Juan Carlos and many other dignitaries in both theater and television for years. Indeed, when he was first summoned to appear in court last November, he thought he would be investigated for one of these performances, because the legal documents regarding his case included pictures of himself dressed as King Juan Carlos and as Philip V, the 18th century Spanish king. Albà later dispelled this.
Larger freedom of speech debate
The accusations against Albà are not an isolated case of humorists being prosecuted in Spain. Earlier in 2018, around a month after Albà's first testimony, a local councilor who also works as a clown and an actor was taken to court for taking and sharing a photo of himself alongside a Spanish police officer wearing a clown nose, during raids carried out that day. Last November, El Jueves magazine's editor appeared in court accused of slander. In 2016, two puppeteers were temporarily jailed in Madrid for staging a show where they allegedly glorified terrorism.
Most recently, the debate regards freedom of speech was widened to include conversations about other fields, including music, art, and books. Various hip hop artists were charged over the content of their lyrics – most notably, Mallorcan rapper Valtonyc, sentenced to three and a half years in prison.
Spain issued an international arrest warrant against him, and his whereabouts are currently unknown. In the world of art and literature, a work of art featuring Catalan "political prisoners" was also removed in February from Madrid's International Contemporary Art Festival (ARCO).