Clown taken to court over photo with Spanish police officer
Months after the picture went viral, he says police officers are "going after" him, and is accused of disobedience from referendum day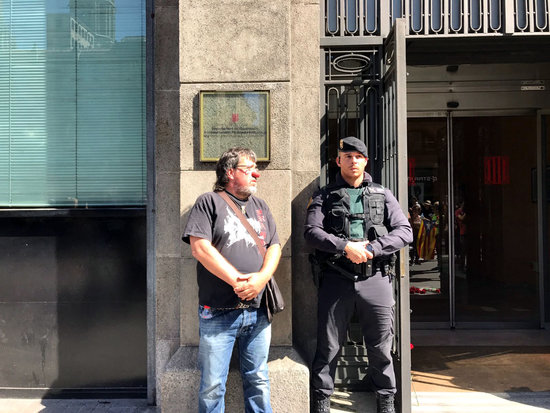 "When I saw the Spanish Guardia Civil police there, I knew they were coming for me." So said a local councillor for a central Catalan village, denouncing that the Guardia Civil force, a Spanish police body, is coming after him. The reason? Jordi Pesarrodona took a photo, wearing a red clown nose, alongside an officer. The photo was on September 20, when the local councillor, who also works as a clown and an actor, spent three hours protesting Spain's police raids happening in the Catalan government building. The photo quickly went viral.
On October 1, less than two weeks later, police officers arrived in his village to prevent the independence referendum from being held. Four months have gone by and, on February 7, Pesarrodona was summoned to court, accused of disobedience during referendum day.
The local councillor's village is very small. Called Sant Joan de Vilatorrada, it clocks in at only 10,000 inhabitants. As for why law enforcement went there on October 1, Pesarrodona believes that it was due to the viral photo he took. Leaving the courtroom, he stated that the officers went to Sant Joan de Vilatorrada as a "reprisal" for the picture.