International arrest warrant issued against rapper Valtonyc
In his latest tweet, the artist said he "would not make it easy" for Spanish authorities to imprison him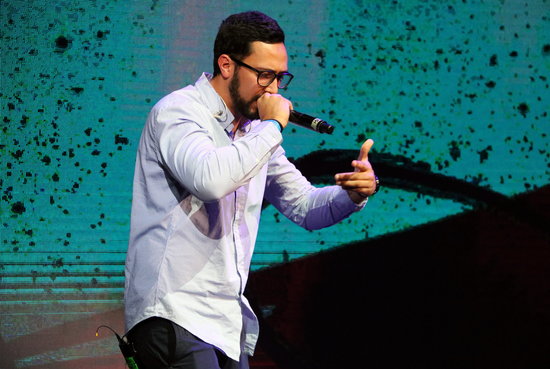 The Spanish National Court has issued a European and international arrest warrant against the Mallorcan rapper Valtonyc. He was sentenced to three and a half years in prison after being found guilty of glorifying terrorism, slander, and defamation of the crown in some of his songs' lyrics. He is thought to be in Belgium, but reports are yet to be confirmed officially.
On Wednesday, a day before he was due to enter jail, the hip hop artist tweeted that he "would not make it easy" for the Spanish authorities to incarcerate him. "Disobeying is legitimate and obligatory against a fascist state," he wrote.
The Spanish justice minister Rafael Català had foreseen that a European arrest warrant would be issued against Valtonyc in order to "arrest him" and put him "in the hands of the Spanish judiciary." Adding that the court sentenced the rapper to three and a half years of prison and to this, one should be added that he "fled justice and his responsibilities as a citizen."
"Over some songs"
The artist further stated on Twitter on Wednesday that in the following 24 hours authorities would have to "break down" his door to put him prison "over some songs." Later that night, in anticipation of the final day for Valtonyc to turn himself in, there was also a demonstration held in Barcelona in his support, which saw more than 200 people in attendance.
At the beginning of May, Spain's Constitutional Court dismissed the rapper's appeal against his conviction, with the National Court setting a deadline of 10 days for him to be locked up, a deadline that expires on Thursday.
On Thursday, a group in support of the rapper gathered at the European Parliament (EP) in Brussels to speak out against Spain's "attacks on freedom of expression." The event coincided with the deadline for the musician to turn himself in to the authorities and begin his jail sentence.
Members of group "haven't known anything" for three weeks
At the time of the publication of this article, at the EP event organized by MEPs Jordi Solé, Josep Maria-Terricabras and Ana Miranda, members of the group admitted that they are not aware of Valtonyc's current whereabouts. Member Mulay Embarek explained that even people in the musician's closest circles, which include some members from the group "haven't known anything" of it for the past three weeks, not even whether he's "dead or alive."