20,000 PCR tests planned for schools by mid-October
Antibody tests for any student who is positive to prevent whole classes self-isolating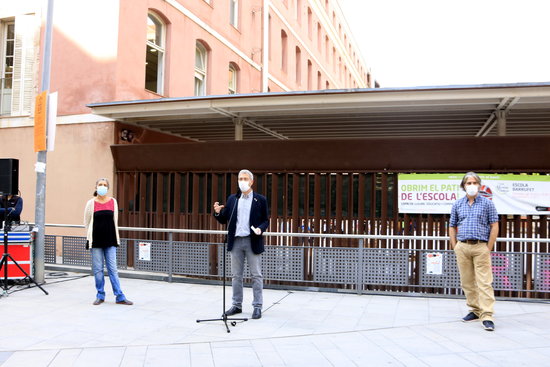 With the new school year now into its third week, and with over 2,300 staff and students having tested positive for Covid-19 so far, health and education authorities have begun to expand the mass screening program into areas that are reporting mixed levels of the virus.
Screenings took place on Tuesday in Barcelona and L'Hospitalet de Llobregat as part of a push to carry out 20,000 PCR tests in schools by the middle of October, the first phase of a longer project.
The aim of the screenings is "detecting asymptomatic cases in schools and identifying and cutting transmission chains," explained the director general of public schools, Josep Gonzàlez-Cambray, speaking to media outside Barrufet School in Barcelona, where about 500 tests were carried out.
He said that the initial phase of the screening program – up until mid-October – was about getting the "maximum information possible to make the best decisions," ahead of expanding testing to a total of 500,000 PCR tests by mid-November, as announced in August by the now ousted president Quim Torra.
The tests are not only to examine what's happening inside schools, but outside too, added Jacobo Mendioroz of the Public Health Agency, with the idea being that schools are a "mirror image of what happens in the community."
Nasal smear and antibody tests
Mendioroz also explained that the testing method being employed is the nasal smear technique, slightly less aggressive and therefore more suitable for children than a nasopharyngeal PCR, a more effective method which will continue to be used in cases where people have Covid-19 symptoms.
Students who test positive will also undergo a serological test to detect if they have developed antibodies against the virus, which would indicate that the infection has passed. This could prevent whole classes having to self-isolate.
As for the general situation regarding coronavirus in schools since the recent return to the classroom, González-Cambray said it was as they had anticipated, discovering "a lot cases because the virus is present in society." The head of public schools acknowledged that the protocols in some cases have not worked perfectly, and that they need to be adjusted.