Catalan government bans social gatherings of over 10 people
Measure to be introduced both in public and private, restaurant curfew and restrictions on smoking remain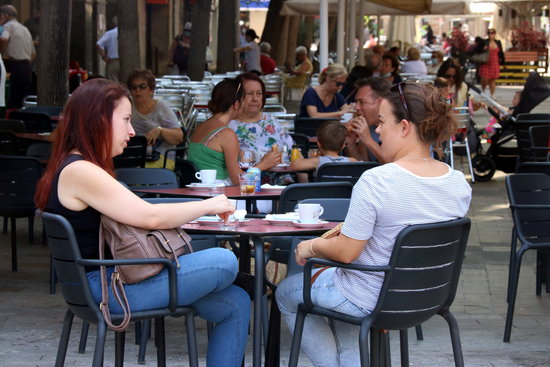 The Catalan government will ban social gatherings of more than 10 people across Catalonia, both in public and in private.
This was announced by the Catalan president, Quim Torra, on Monday around midday in order to prevent the spread of Covid-19 in the country.
The new measure doesn't apply at work or on public transport and will be in place for 15 days.
"What will happen during autumn and winter will be at stake in the coming three weeks," Torra said, emphasizing the need for schools to open and for people to be able to go back to their workplaces.
"We have three key weeks to flatten the curve," he added.
The measures introduced recently, including the 1am curfew on restaurants and the limitations on smoking, will also be maintained.
Measures for schools
Catalonia's schools are set to open on September 14 for the beginning of the academic year after a six-month hiatus, but there are still uncertainties as to how the return will take place.
President Torra announced that all pupils over 12 will have to wear face masks at schools across Catalonia, and in those places with most risk of Covid-19 transmission masks will be obligatory for pupils over 6.
He also announced a mass screening plan for schools from September 15 to November 15, with around 500,000 tests to take place.
In addition, primary school classes will have a maximum of 20 pupils, while secondary school class sizes will also be reduced.
On Tuesday, the government will hold an extraordinary cabinet meeting in order to approve the latest update to the protocol on how schools will manage the pandemic.
Enhanced measures in the Vallès area
The health minister, Alba Vergés, announced during the same press conference that four towns will face enhanced measures.
Terrassa, Granollers, Les Franqueses del Vallès and Canovelles, in the Vallès Occidental and Vallès Oriental counties, will see not only the latest measures announced by Torra, but also the maximum capacity of religious services reduced to 33% and capacity in bars and restaurants cut down to 50%.
These new regulations are equivalent to those announced in Reus, in the Tarragona area, last Friday.