With only three weeks left to form a government, the clock is ticking for pro-independence parties
Parliament speaker will not authorize a new presidential bid until parties reach a deal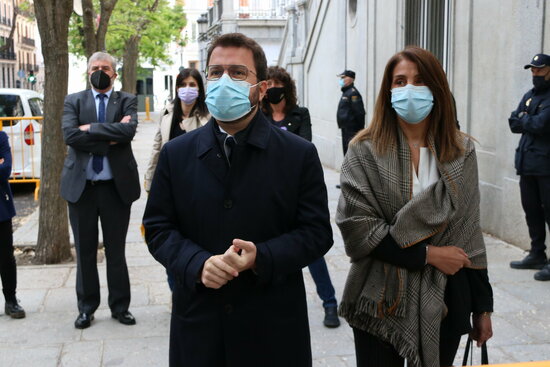 When pro-independence parties won Catalonia's parliamentary election on February 14, surpassing 50% of the votes for the first time ever after a harshly fought campaign held amidst the coronavirus pandemic, it seemed like the hardest part of the job was done.
But reaching an agreement to form a new government is proving equally challenging. If they don't manage to do so by May 26, their past victory will be in vain, and fresh polls will automatically be called.
Pere Aragonès, the presidential candidate of Esquerra Republicana, remains the only person with credible chances of becoming the next head of government. His only real contender, the Socialist Salvador Illa—who won more votes than Aragonès—is highly unlikely to get enough support from fellow lawmakers to be elected president, as that would imply some pro-independence MPs backing him.
But while pro-independence MPs are likely to vote in the bloc to reject Illa, they are not as likely to come together to support Aragonès.
The main reason is that ERC has so far failed to seal a government deal with Junts per Catalunya, the second-largest pro-independence party in parliament, led by former Catalan president Carles Puigdemont from his exile in Belgium.
During the ongoing negotiations, disagreements have arisen over who should be in charge of overseeing the path to independence, with JxCat insisting on the private organization that the former president manages, the Council for the Republic. Esquerra is skeptical and sees the organization as "biased."
But there are other areas of disagreement, like the previous deal reached between ERC and CUP, a far-left party also in support of independence which will most likely stay out of the government. JxCat says that the deal, which includes changing the housing model, more resources for primary care, or suspending police use of foam bullets, doesn't "appeal" to them.
"We'll give Junts per Catalunya some more time, and for the moment we won't try to form a government alone," said ERC's spokesperson Marta Vilalta on Monday, saying that negotiations had reached a "turning point" that made them hopeful. JxCat officials denied such progress.
No more presidential bids until deal is reached
Indeed, it's JxCat's highest-ranking official, the parliament speaker Laura Borràs, who can decide when Pere Aragonès can bring his presidential bid to the parliament floor again, after a first attempt to be elected president didn't get enough support a month ago.
"The country can't afford failed presidential bids, so we'll do it when we know it will be successful," said Borràs in an interview with the Catalan News Agency.
Meanwhile, opposition parties keep criticizing the pro-independence rivals for prolonging the political deadlock in Catalonia, trying to form a new coalition government after years of infighting between ERC and JxCat.
"[ERC's] government with JxCat has been a failure and will not work. I don't know how long it will take for them to realize," said Alícia Romero, a spokesperson for the Socialist party.