Junts to prevent Aragonès' presidential bid with another abstention in second round of voting
Pro-independence parties now sharing government unable to find agreement as May 26 deadline to elect a president or face snap election approaches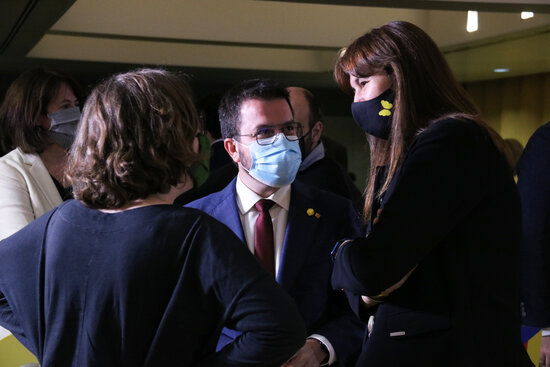 Junts per Catalunya will prevent the presidential bid of Esquerra's Pere Aragonès for a second time on Tuesday.
Former president Carles Puigdemont's party announced on Monday it will abstain again after the first round of vote on Friday.
The debate will take place in any case and if, as expected, Aragonès is unsuccessful, lawmakers will have to work on a consensus to elect a head of government by May 26 – otherwise, the country will face a second snap election this year.
Both current coalition partners have been negotiating ever since the last election, held in February, and the only major outcome so far was granting Junts' Laura Borràs the post of parliament speaker – usually given to the junior partner of a future government coalition, as happened in 2018 with Esquerra's Roger Torrent. The roles were agreed upon at that time because unlike now, Junts prevailed over Esquerra.
The election of Borràs for Catalonia's second authority post seemed to pave the way for a deal on a cabinet between the two, but so far the final deal has not been reached.
Role of Puigdemont source of disagreements
One of the key aspects blocking the negotiations between the two pro-independence forces is which mechanism will be used to monitor and find consensus in the establishment of a Catalan state in the future.
While Junts defend that it should be the Council for the Republic, a private organization chaired by their leader and former Catalan president Carles Puigdemont, the one coordinating policies dealing with the national issue, Esquerra and CUP believe that a new body should be created integrating several civic groups including the Council for the Republic.
Both Esquerra and far-left CUP have recently suggested that Puigdemont's organization is biased and favors his own political party.
Esquerra–CUP agreement
Indeed, Esquerra has so far only been able to garner the support of CUP's nine seats after an agreement. It includes engaging in talks with the Spanish government over the independence issue and attempt to agree on a self-determination referendum – but reconsider in 2023 whether it is worth continuing negotiations with Madrid.
Also in 2023, when Aragonès' mandate reaches its first half, a vote of confidence on the government will take place in parliament, according to the same paper.
Junts "want to vote yes"
In a press conference on Monday, JxCat's vice president, Elsa Artadi, explained that at the moment they cannot vote for Aragonès as there is no coalition agreement in place yet.
"We want to vote yes as soon as possible and for Aragonès to no longer be vice president of Catalonia in order to start the new term," she insisted, but said they will do so when they are "in a position" to join and be part of the government.
She maintained that she was optimistic that "the agreement that the country needed" could be reached.
Parties have two months to reach a deal but the JxCat vice president insisted that, although no firm schedule has been discussed, it would not take that long, but rather "days" to come to a "solid" agreement.
"We ask for more patience, we believe it is worth working to have an agreement for the full term and a strong and stable government," she said.
Artadi said that finalizing an agreement to enter the government with Esquerra was their "first and only priority" and that the possibility of enabling Aragonès to become president of a minority administration was "not on the table."
She said there had been no discussion of cabinet roles and talks were instead centered on "nuclear" issues such as the how to deal with the Spanish government over the question of Catalan independence.
Esquerra call for "gesture of trust"
Esquerra had called on JxCat for a "gesture of responsibility and trust" in order to elect Pere Aragonès on Tuesday. ERC's Marta Vilalta insisted during a press conference on Monday that there was still time for a deal and but conceded that all indications were that it would be, in her view, another "missed opportunity."
Vilalta said there were "no insurmountable obstacles," and that it was her understanding that they could overcome the stumbling block around reform of the Council for the Republic.
The ERC spokesperson insisted that there was no possibility of entering into negotiations with the anti-austerity Catalunya En Comú-Podem party and that a pro-independence alliance remained the only option, which is why her party would "not stop working" until an agreement was reached.
Socialists: ERC "devaluing" institutions
The Socialists, who won the same number of seats as ERC but have no clear pathway to power, have accused the pro-independence party of "devaluing" the institutions by involving the Council for the Republic in their government formation talks.
"Will [Aragonès] accept a presidency with intervention from the Council for the Republic? Will he want a supervised presidency once again?" asked the Socialists' Eva Granados, who described the group as a "para-political artifact, made to measure for Carles Puigdemont."
Granados also criticized the ERC as being "hostages" of the far-left CUP and said that they were "degrading" Catalonia's institutions by agreeing in writing to a vote of confidence halfway through parliament's next four-year term.
Meanwhile, Carlos Carrizosa of the unionists Ciudadanos party, lamented the fact that the government "remained blocked" due to the "fights" between the two main pro-independence forces, and claimed that they were not arguing over the Catalan people's problems, but rather who should head up the Council for the Republic.