Minority government of pro-independence Esquerra on the table
Junts say they will not push country to snap election and could support Aragonès-led cabinet while staying in opposition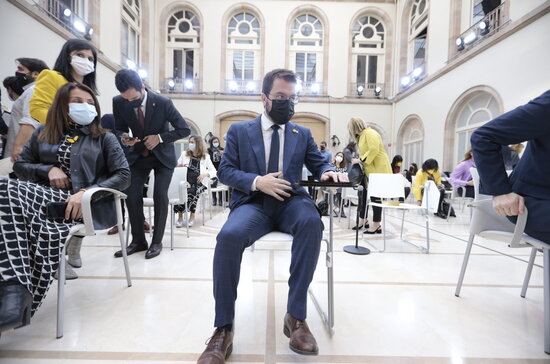 It has been 50 days since the Catalan election was held and the euphoria of the pro-independence camp, who had kept the majority in the chamber and had surpassed 50% of the vote share for the first time, is fading away: parties in favour of a split with Spain are unable to reach an agreement to launch the term.
Voters would face another election around July 11 if lawmakers cannot find consensus on a presidential candidate before May 26, after Esquerra's bidder, Pere Aragonès, failed in late March.
The leader of the most voted pro-independence force did not garner the support of enough MPs, mostly because their current senior government partner, Junts per Catalunya, abstained in the two votes held.
Given the composition of the chamber, both seem to be doomed to reach a deal, but after repeated discrepancies within their shared executive since 2018, it is not proving easy.
With 50 more days to go until the final deadline expires, a possible way out to the deadlock has appeared: a minority government of Esquerra.
One of its senior MPs, Ernest Maragall, said on Tuesday that the party "should be ready" for a cabinet only supported by their 33 lawmakers out of 135.
In an interview with Spanish public broadcaster TVE's 'Cafè d'Idees' programme, he also greenlighted the possibility of a shared government with far-left CUP – the only party that has supported Aragonès' bid after both forces reached an agreement of policies to put forward.
Yet, the anti-capitalists have not expressed interest in joining the executive for the first time now.
Different model for the country
The deal between Esquerra and CUP is proving another hurdle for an agreement with JxCat, whose spokesperson, Elsa Artadi, said they do not feel "part" of the two left-wing groups' pact.
"We will by no means enter a government if there is no agreement for the whole term [not only for Aragonès' bid for president]," she added.
Junts' Gemma Geis pointed out last week in parliament that their model for the country was nowhere near that which has been agreed between Esquerra and CUP.
Discrepancies also continue over who should monitor the road to independence, with Carles Puigdemont's party insisting on the former president's private organization Council for the Republic, and Esquerra and CUP being skeptical and accusing the entity of being "biased."
Esquerra, CUP and En Comú Podem?
Another possibility that Junts has put on the table is a government between Aragonès, CUP and En Comú Podem – a left-wing pro-referendum force but not in favour of independence –, which would still be a minority government.
"Some in Esquerra want a shared executive with CUP and En Comú Podem. If that is what they want, they should say it. We will back it, if that is what they choose," said Jordi Sànchez, implying they would stay in opposition and would not contribute to a snap election.
In the near future, Aragonès' party has to decide whether to support a Junts or an En Comú Podem MP for the vacant post in the parliament bureau.