Von der Leyen: Catalonia's investment in green hydrogen 'is amazing'
European Commission president praises use of NextGenerationEU funds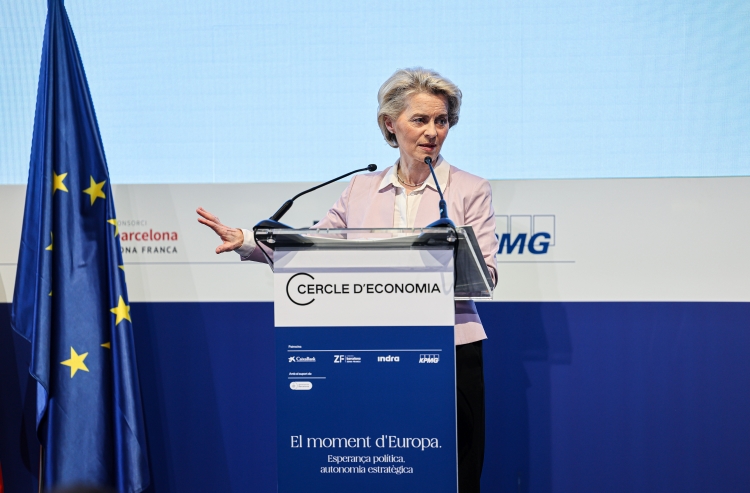 The European Commission president, Ursula von der Leyen, praised Catalonia for investing in the hydrogen ecosystem. "This is amazing," she said during the annual Cercle d'Economia convention held in Barcelona's Hotel W on Friday, which she attended to receive an award for European Construction.
Von der Leyen's speech was focused on energy in the aftermath of the cost of living crisis which has seen gas and fuel prices surge. The European Union is currently "seizing its moment" against the "Kremlin's blackmail" and is cutting back on its dependency on fossil fuels, she argued.
"NextGenerationEU will contribute to turning Catalonia in one of Europe's new hydrogen valleys," the European Commission president said.
"You produce plenty of energy, from wind, water, and nuclear. And now you are creating a full hydrogen ecosystem. You are investing in clean hydrogen production, in new fleets of hydrogen buses for Barcelona and Tarragona, but also in skills and education, with a new inter-university master in Hydrogen Technologies," she added.
Catalonia is a clear example "of the kind of change that we wanted to set off when we launched NextGenerationEU," the president of the European Commission said to the country's political and economic elite who were in attendance."NextGenerationEU is already making a difference here in Catalonia."
European funds are already being used for innovative projects using "blockchain technology to certify the origin of wine and prevent fraud," and are being invested in the Supercomputing Center in Barcelona, which she called a sign of "European and global excellence, which carries on cutting-edge research spanning from healthcare to climate science.".
European interconnections 'critical' for energy
One of the infrastructures the Catalan government has been ferevently lobbying Europe for is the MidCat project, a pipeline that could bring gas from Africa to Europe via Catalonia.
For Catalan president Pere Aragonès, this should only be completed if used for green hydrogen.
Ursula von der Leyen considered the energetical connection between Portugal, Spain and France as "critical" for Europe to be "free from Russian threats."
"Spain is at the heart of Europe. You are a global leader in clean energy. You have a dynamic and innovative economy," the European leader added.
After Ursula von der Leyen's received her award and gave her speech, Spanish PM Pedro Sánchez took the stage.
It was one of the most awaited moments, as the press and attendees expected him to give respond to recent developments in the Catalangate espionage case.
After pushing for "negotiations" with Catalonia to continue, Sánchez announced that Spain and Portugal had already sent the final version of an energy deal to European institutions for them to greenlight it.
Once approved, the deal should bring electricity bills down limiting the price of gas to an average of €50/MWh for the next 12 months.
Cellist Pau Casals
Before finishing Ursula von der Leyen's speech she used the famous Catalan cellist Pau Casals, as an example of today's Europe.
"He was one of the greatest musicians of his time. He enjoyed worldwide fame. But when Spain fell under authoritarian rule, Casals chose exile. He decided that he would not play music in his home country, and in all countries that recognized the Franco regime, until democracy returned to Spain," the European Commission president explained.
She later reminds the legacy of the musician. "Today, Europe is taking sides. For human dignity and democracy, for all," the leader said after talking about the war in Ukraine during her speech.