'I am a Catalan' - Pau Casals' famous speech at the United Nations honored 50 years on
Catalan authorities praise the great cellist as National Day celebrations draw to a close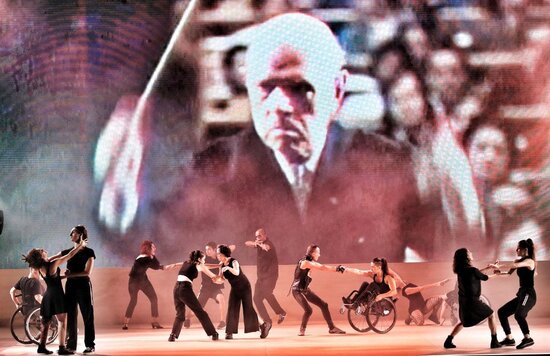 As National Day celebrations draw to a close in Catalonia, authorities have commemorated the 50th anniversary of what is widely regarded as one the most memorable speeches ever made by a Catalan person: Pau Casals' impassioned address at the United Nations, where the great cellist famously proclaimed "I am a Catalan."
Attended by Catalan president Pere Aragonès and parliament speaker Laura Borràs, the event was held on Saturday evening in Barcelona, by the Montjuïc hill and in front of the National Art Museum of Catalonia.
The official poster marking the 2021 National Day featured a portrait of Casals, accompanied by a quote by him: "We're leaves of the same tree, and that tree is humanity."
In 1971, Casals appeared before the General Assembly of the United Nations in New York to receive the U.N. Peace Medal in recognition for his stance for peace, justice and freedom.
Following his address, in which he praised Catalonia's contributions to peace and democracy, he broke his vow to not play the cello in public as long as Spain was ruled by dictator Francisco Franco, and performed 'El Cant dels Ocells' (The Song of the Birds), a Catalan folk song that became a classic under Casal's bow.
Born in 1876 in El Vendrell, in southern Catalonia, Casals learned music from his father and would go on to become one of the greatest cellists ever, widely praised for the recordings of the Bach Cello Suites, and playing for the likes of Queen Victoria and U.S. presidents Theodore Roosevelt and John F. Kennedy.
A supporter of the democratic Second Republic government in the 1930s, he fled Spain for France to escape the Franco regime, and died in 1973 in Puerto Rico, where he had resided for several decades, at the age of 96.