MidCat: the forgotten pipeline that could bring gas from Africa to Europe via Catalonia
Politicians urge for infrastructure to be finished to solve EU's dependence on Russian gas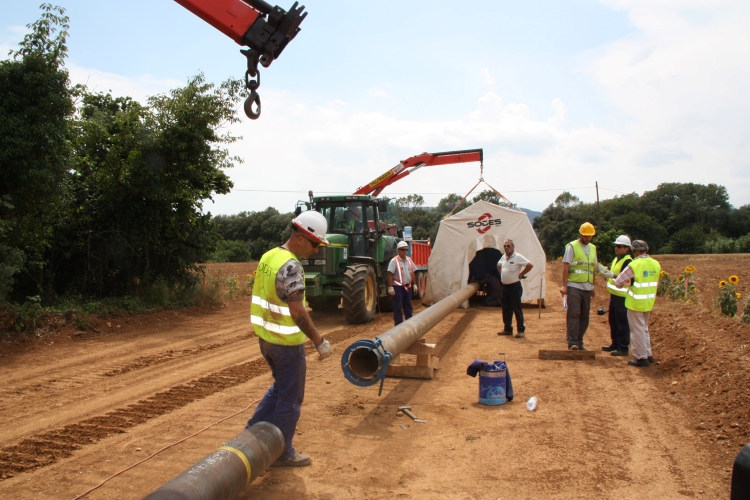 The European Union imports the vast majority of its gas from Russia, and following the country's invasion of Ukraine, authorities have sounded the alarm. Now, Spanish and Catalan officials are calling for a forgotten gas pipeline, the MidCat, to be finished.
This piece of infrastructure would connect Algeria, in North Africa, with Europe, via Spain and Catalonia. Right now, the pipeline ends at the north-central town of Hostalric in Girona, one hour away from Barcelona.
The idea was to extend the gas pipeline to France so it could bring the natural gas arriving from Africa to Europe. However, the lack of willingness of European authorities back in 2018 halted the project leaving it unfinished in the Catalan town.
With the Russian invasion, the European Union is looking for ways to diminish the dependence on the gas coming from the Eastern European country. Therefore, officials in Catalonia and Spain are calling for the MidCat to be finished.
On Sunday, Catalan president Pere Aragonès said that the project should be completed but only if it is used for green hydrogen. He addressed the situation during a summit in the Canary Island of La Palma with other Spanish leaders.
The goal to restart the project is shared by Spain's PM Pedro Sánchez, who urged EU leaders to finance the pipeline during a summit at the Palace of Versailles in France on March 11.
"These infrastructure projects are European projects. It is the EU that has to finance them. It cannot be Spain or Portugal, it has to be the EU," Sánchez said.
The European Commission has proposed that energy connections between Spain and France should be a priority. But Spanish authorities say that finishing MidCat will "not solve the problem right now," although it is an important step to avoid dependence on Russia and to "strengthen and increase" the EU's interconnections.