Catalan president tells PM they 'need to speak urgently' about Catalangate
Aragonès and Sánchez agree to meet following brief encounter in Barcelona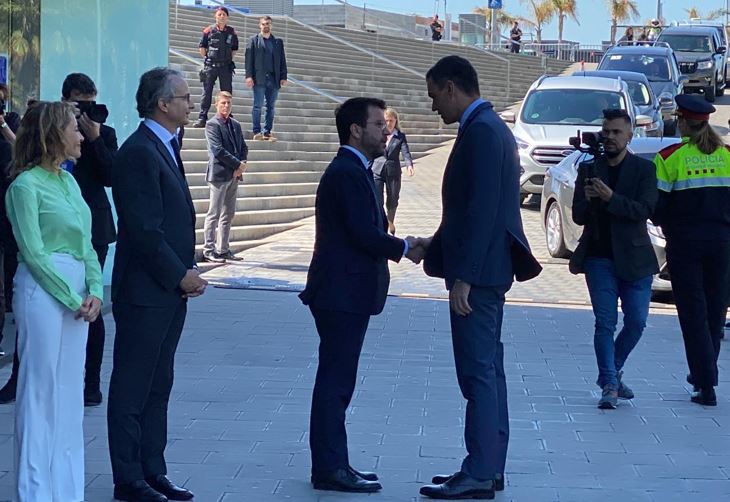 The Catalan president, Pere Aragonès, and the Spanish PM, Pedro Sánchez, greeted one another at the annual Cercle d'Economia event with the country's business and political elite in Barcelona on Friday in the midst of the Catalangate espionage scandal.
Aragonès told Sánchez that they needed "to speak urgently."
"This is very serious," Aragonès said a day after the Spanish intelligence agency (CNI) admitted to spying on 18 pro-independence figures including the Catalan president himself.
Hours later, the Spanish PM told Aragonès they had to "find a solution" to the espionage crisis, with both agreeing to set a date to meet.
During his speech to Cercle d'Economia attendees, Sánchez said he had "profound a profound respect for Catalunya, its people, and its institutions."
"I am firmly committed to continuing working towards negotiations, dialogue, and agreements," he added.
Friday was the first time Sánchez and Aragonès were seen together since news of the Catalangate espionage case broke on April 18. The New Yorker magazine and the University of Toronto-based research group Citizen Lab reported that over 60 people with ties to the Catalan pro-independence movement were targeted with Israeli NSO Group spyware, Pegasus, as well as Candiru.
CNI admits to spying on 18 people
On Thursday, the head of the Spanish intelligence agency, Paz Esteban, admitted to having spied on 18 of more than 60 people named in The New Yorker and Citizen Lab reports with approval from Spain's Supreme Court judge Pablo Lucas.
Hours after the committee meeting's findings were made public, the Catalan president called for the information discussed to be declassified as well as for there to be resignations over it.
ERC secretary-general urges responsabilities
Marta Rovira, Esquerra Republicana de Catalunya secretary-general, has urged responsibilities to opposition leader Salvador Illa, from the socialist party, over Catalangate.
Illa, a former minister from the Spanish government "should take the necessary responsibilities," she said during an interview with the Catalan News Agency (ACN) in her office in Geneva.
"I cannot believe he is just walking around Catalonia trying to do as if nothing had happened," she added. Rovira has been living in Switzerland for over four years since she left Spain instead of appearing in Spain's Supreme Court in 2018.
"I would like to see him being active and pro-active," before adding that Catalan pro-independence leaders cannot do an "act of faith" and believe what the Spanish government is telling them.