Inability to resolve Catalan issue drags Spain to fourth election since 2015
Independence leaders' verdict and protests, lack of joint approach in Madrid: six keys to understanding November 10 Spanish vote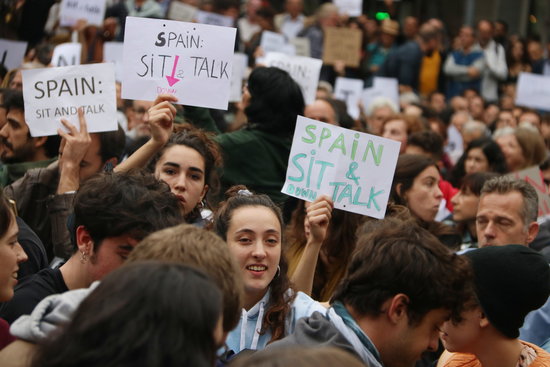 Back to the ballot boxes. Spaniards have been called to cast their vote on November 10 to decide their MPs and senators again and a one-week reduced campaign started on Friday at midnight.
The election is a repeat of the one held on April 28, as a result of a failure between the parties to find consensus over a candidate for president.
Everyone has been looking to impart blame for the deadlock, but the Socialists are the target of many – they won the election doubling the second force in seats, but failed to gather support from other parties to reach 176 MPs required to instate their leader Pedro Sánchez.
But this situation is not new – it also happened in 2015-2016, with the People's Party only making it to government after two elections: Spaniards have had to cast their ballot four times in just less than four years.
Yet, there is arguably an underlying reason for the current deadlock: the no solution Catalan issue. These are the keys to understand the reasons for an election six months after the last, and what to expect in the campaign and as the outcome:
1. Spain's parties divided on how to tackle Catalan issue
After months of left-wing coalition government talks, they came at a standstill in July for a number of reasons – but Sánchez revealed the key issue behind most of them: Catalonia. Talking to La Sexta TV channel in July, he said anti-austerity Unidas Podemos could not be their partner for their support to the independence leaders and a self-determination referendum in Catalonia.
Sánchez could not (and can't) look to the other side to gather supports either: unionist Ciutadans, calling themselves a 'center' party, have been rejecting him arguing that his secret plans are a government formed of pro-independence parties.
Ciutadans, the People's Party and far-right Vox agree on urging Sánchez to take a harder stance against the Catalan government, and demanding a suspension of self-rule – some understanding among them is likely, as they are backing each other in regional executives, but they fell short of MPs.
2. Jailed leaders' verdict deepens deadlock
Pro-independence Esquerra's leader in Madrid, Gabriel Rufián, was ready to wrap up a left-wing alliance providing enough MPs to make it successful in July. But he warned that dragging the deadlock to autumn would make things more difficult." He was implicitly referring to the 2017 referendum leaders' verdict, which was looming.
Now his party leader, Oriol Junqueras, has just been convicted to 13 years behind bars for sedition, with eight more leaders getting lengthy sentences too. Sedition was the crime requested by the solicitor general, representing Spain's Socialist government. Esquerra is now less likely to give their support, despite polls showing that they will be needed for a left-wing coalition.
3. Protests against "repression" play key role
Weeks of protests against the verdict in Catalonia's streets are not over yet, with days of unprecedented clashes between demonstrators and the police. While parties in favor of a Catalan Republic urge for talks with Spain, they also sympathize with the street's call to stand firm against Madrid's "repression."
November 9, the day before the election, no political action is supposed to take place. Yet, activist group Tsunami Democràtic has called for "disobeying" the electoral authority that day and is organizing "political, cultural and festive" events across Catalonia.
Madrid has already threatened with a police operation if electoral rules are broken – meanwhile, Tsunami is also organizing some unrevealed action for the three days following the election.
4. Pro-independence forces stronger than ever, with more capacity to block
With Catalans traditionally leaning more towards parties with a Spanish-wide equivalent in Spanish elections instead of pro-independence forces, the parties in favor of a split could amass half or even more seats up for grabs for the first time – they might gather more than 50% of the votes for the first time as well.
Esquerra is set to come first for a second time in a row, with Junts per Catalunya likely to remain fourth, with both potentially losing votes. The main reason: for the first time ever, far-left pro-independence CUP is taking part in a Spanish poll.
They are likely to make their breakthrough by winning seats and their manifesto is clear: contributing to block Spain if no steps to freeing the jailed leaders or for a referendum are taken.
Junts per Catalunya might take a similar stance, as well as Esquerra, although the narrative of the latter is softer. Both, who urge for amnesty for the imprisoned leaders, will weigh forces within the movement again ahead of a possible Catalan election.
5. Socialists' hopes up in the air – left-right side to remain same
The Socialist Party hope to get closer to a majority on November 10 – and that's what polls suggest until September. This is somewhat less clear now, and the fact that the rest of parties blame Pedro Sánchez for repeating the election might not help them. Unidas Podemos might not lose ground – despite a breakaway party taking part in the vote.
Meanwhile, the People's Party and far-right Vox are set to make a boost, but at Ciutadans' expense, so the overall numbers for both sides might be similar to those on April 28.
6. Three-way outcome on the horizon
The outcome of the November 10 election might be a three-way one: either the Socialists make some concession to the independence bloc in exchange for their support (unlikely), or the Socialists reach some extremely rare agreement with the People's Party (unlikely) or… Spaniards face an unprecedented new election repetition, extending the deadlock to over a year. In any case, the independence issue is the top topic of this campaign and is expected to continue monopolize the future of Spanish politics, unless a way out is found.