A guide to the Spanish election and its impact on Catalonia
The Socialists might need pro-independence Esquerra to retain power, as newly elected jailed MPs will try to take office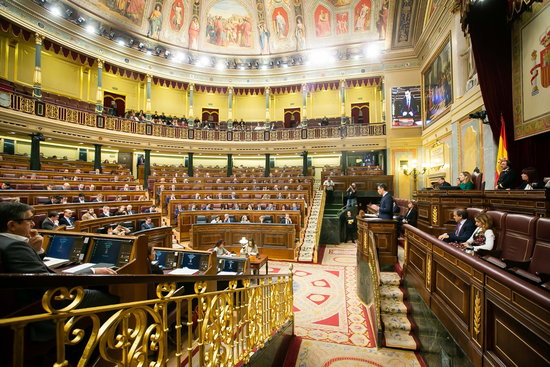 First things first: who won the April 28 Spanish election?
In Spain, the Socialists won, coming first by leaping from 84 to 123 seats. Yet, they are 53 short of an overall majority.
In votes from Catalonia, the winners were pro-independence Esquerra Republicana, with 15 seats and over a million votes. It is the first win of a party in favor of a Catalan republic in a Spanish poll, since the 1930s.
Ok, so it looks like the Socialists will keep their power. But I guess they'll need an alliance to form a majority...but with whom?
On paper, they have two choices:. First, they could form a government with unionist Ciutadans (Cs). Their other option is instead getting the support of left-wing Unidas Podemos and other parties, such as the Basque and Canarian nationalists, and perhaps Esquerra as well.
But…Ciutadans spent their campaign saying they preferred an alliance with the conservative People's Party and claiming the Socialists were allies to the pro-independence parties, which they called 'members of a coup d'etat.' So…could an alliance between them really happen?
No, not really. For starters, Cs leaders have already ruled it out. And outside the Socialists' headquarters on Sunday night, the crowd was chanting "Not with Rivera!" referring to a pact with the head of Ciutadans. It looks like the fierce opposition of Cs will make it impossible for both to form a government.
So the most likely outcome is a rather left-wing multiparty coalition, then?
Yes, but achieving this won't be so easy. Unidas Podemos might want to claim seats in the executive. Meanwhile, the Socialists have already said they want to govern alone.
But even if the Socialists succeed in negotiations with Unidas Podemos, won't they still need other parties for a majority? An alliance with a Catalan pro-independence party looks difficult…would one definitely be needed to support Pedro Sánchez as president?
It looks like it, but it's still not 100% clear. Because, guess what! Altogether, seats from the Socialists, Unidas Podemos and its Valencian and Catalan allies, the Basque and Canarian nationalists (both rather center-right, instead of left-wing), and the Cantabrian regionalists - add up to 175 seats. And the majority is at 176! So, either pro-independence Esquerra, Junts per Catalunya or Bildu – or some right-wing party – will have to at least abstain in Sánchez's investiture vote.
Speaking of which, how did the pro-independence parties do in the election?
It was their best result ever, and they won 22 seats altogether. But while the two mainstream forces in the movements were neck to neck in the past 2017 Catalan election, this time around Esquerra (15 seats) got double the votes of Carles Puigdemont's Junts per Catalunya (7 seats).
Does that mean that jailed leaders have been elected as MPs?
Yes. Esquerra's leader, Oriol Junqueras, has been elected as an MP, as well as Junts per Catalunya's Jordi Sànchez, Jordi Turull, and Josep Rull – all of them in jail. Esquerra's Raül Romeva has meanwhile been elected as senator.
Will they be able to take office?
Supreme Court sources told the Catalan News Agency (ACN) that MPs-elect will be authorized to leave prison in order to assume their posts. Yet, they could subsequently be suspended from office, as they are currently facing trial for the crime of rebellion.
And what about results for other parties in Catalonia?
The Socialists came second (12 seats), En Comú Podem – allies of Podemos – was third (7 seats). Ciutadans got five, while the People's Party got its worst results ever, one seat. Far-right Vox made a breakthrough with one seat as well.
Ah, the far right…but wait, was the far right in the Spanish Congress before this?
Yes and no. It's been four decades since a party like it has been in the lower chamber, but Spain has until now not seen a modern iteration of the far right in its mainstream politics like other European countries – which makes yesterday a historic result. Still, some polls – including the exit polls – estimated a better result for Vox. They also have no chances to join a government, since the right-wing parties altogether didn't get enough seats for that.
And how did the right do in Spain?
It depends on who you ask. The People's Party got its worst result ever, going down from 137 seats to 66. But Ciutadans – if you consider them to be right-wing – got its best, with 57, close on the heels!
Wasn't there also an election for the senate, the chamber with the power to enforce direct rule?
Yes! And the Socialists got the majority of seats, there. They have a much milder approach than Ciutadans, the People's Party, and Vox on whether to suspend Catalonia's self-rule again. So this possibility is further now – but, PSOE did back the motion the first time it happened in 2017.
Ok...I understand. So, now what?
Now, we wait and see. On May 21, the new MPs have to choose a president for the chamber, so we'll start to see results of some alliances there. This will happen just days before the May 26 local and European election. But, when it comes to talking about a new Spanish government, I'm pretty sure they'll all wait until that election is done and over with.