Catalan police face 'biggest internal inquiry ever' over protest crackdown
Instances under investigation include vans running over demonstrators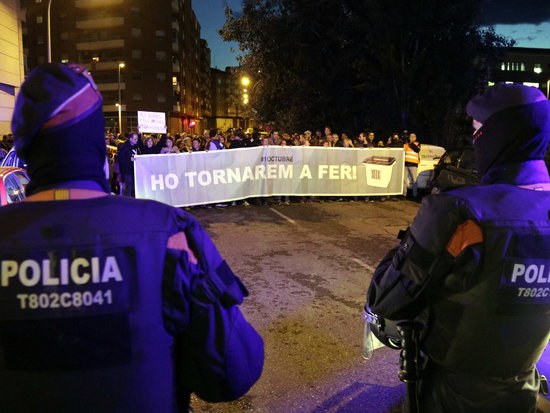 Catalonia's own law enforcement body, the Mossos d'Esquadra, has launched an internal investigation after the recent crackdown on pro-independence protesters raised concerns of police abuse.
The Catalan government spokesperson Meritxell Budó announced the audit on Tuesday, calling it "the biggest internal inquiry ever" for the Mossos.
The sentencing of 9 Catalan leaders to 9-13 years in jail by Spain's Supreme Court, announced two weeks ago, triggered a wave of pro-independence demonstrations that occasionally descended into scenes of unrest in Barcelona and other major Catalan towns.
The Catalan government, controlled by pro-independence parties, faced the uneasy dilemma of encouraging protests while sending police officers to stop the altercations.
Interior minister Miquel Buch, the government official responsible for the Mossos, faced repeated calls for his resignation by pro-independence protesters and even some political colleagues.
On Tuesday, the far-left CUP party appealed for the sake of "ethics and responsibility" that the other pro-independence parties, JxCat and ERC, vote in support of its demand that Buch be sacked.
CUP has put forward a motion calling for Buch's removal and for the withdrawal of the state National Police and Guardia Civil forces from Catalonia that will be voted on in parliament after the November 10 general election.
Leading human rights organizations like the Council of Europe and Amnesty International denounced the disproportionate use of force by police during the protests.
The 15 instances of alleged police misbehavior under scrutiny include police vans running over a protester in the southern town of Tarragona, and officers mocking pro-independence chants while chasing demonstrators.
Spanish police "exemplary," says Madrid
Budó also expressed the government's "concerns" over the use of rubber bullets by Spanish police officers in the recent disturbances, stressing that their use is banned in Catalonia, and the spokeswoman said the government would like to see the ban extended across Spain.
So far, the Spanish government has not announced any investigation into possible irregularities or misconduct on behalf of officers from the National Police or the Guardia Civil operating in Catalonia during the unrest.
However, on Monday, acting interior minister, Fernando Grande-Marlaska, told the Cadena Ser radio station that all officers injured while policing the unrest will be decorated for their "exemplary" policing during the disturbances.
639 people injured
46 more people were injured in Catalonia as Barcelona once again descended into unrest on Saturday night, taking the total number of injuries in the aftermath of the conviction of nine leaders behind the 2017 referendum to 639.