High Court to investigate former Catalan parliament speaker for disobedience
Roger Torrent and three colleagues could face a ban from public office for allowing votes on self-determination and against the monarchy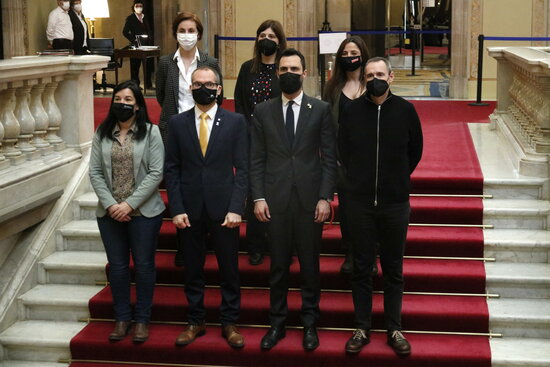 The High Court of Catalonia (TSJC) will investigate former parliament speaker Roger Torrent for allowing lawmakers to vote against the Spanish monarchy and in support of Catalonia's self-determination in the fall of 2019.
The court announced on Wednesday that it was admitting a criminal lawsuit from Spain's public prosecutor against Torrent and three of his former colleagues at the chamber's bureau: Josep Costa, Eusebi Campdepadrós, and Adriana Delgado. They're all members of Catalonia's two ruling pro-independence parties.
Judges will investigate Torrent and his colleagues for disobedience. If found guilty, they could be barred from holding public office for a number of years.
Torrent, who was succeeded as parliament head last week, is accused of contravening Spain's Constitutional Court and authorizing votes that were deemed unlawful.
The motions were passed on November 12, 2019, with subsequent amendments on November 26. They were backed by pro-independence parties, holding a majority of seats in the chamber.
One of the texts stressed that parliament "reiterates and will reiterate as many times as MPs choose the disapproval of the monarchy, the defense of self-determination and the affirmation of the sovereignty of the people of Catalonia to decide their political future."
Prosecution of Catalan independence leaders
Torrent's case is the latest in a long list of criminal investigations against politicians and activists linked to the Catalan independence movement.
Torrent's predecessor, the pro-independence activist turned politician Carme Forcadell, is serving an 11.5-year prison sentence for sedition for allowing lawmakers to declare independence from Spain in 2017.
Last fall, the president of the Catalan government, Quim Torra, was sacked from his post after the Supreme Court upheld a previous sentence for disobedience.