Self-determination motion passed and suspended at same time
Catalan parliament votes in favor of pro-independence proposal, as high court in Madrid suspends it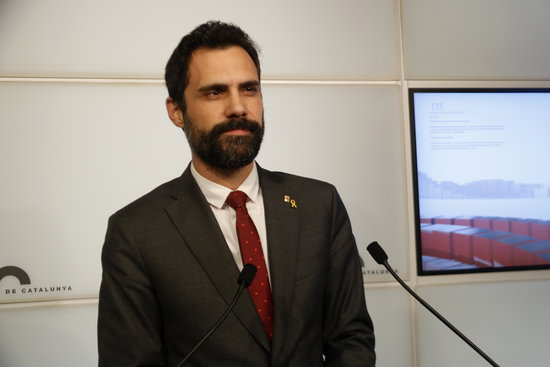 A motion defending Catalonia's right to self-determination passed in parliament on Tuesday, while at the same time it was being suspended by Spain's Constitutional Court.
After a brief debate at 9 am, the motion put forward by the pro-independence CUP party passed the vote at 10 am, with 61 votes in favor, none against and eight abstentions.
Yet, at just about the same time, the high court in Madrid upheld the legal challenge presented by the Spanish government on Friday and suspended the motion.
Once again, the high court warned the parliament and the members of is bureau under speaker Roger Torrent of the criminal consequences of not complying with its rulings.
Vote brought forward to 10 am
Only 90 of the chamber's 135 MPs were present for the vote, with 21 choosing not to vote, and the MPs from the unionist Ciutadans party walking out before the vote took place.
Originally, the vote was to take place on Tuesday afternoon, but it was brought forward so it could pass before the Constitutional Court could announce a decision.
Setting a new time for the vote drew complaints from the government, which complained to Torrent that it coincided with a cabinet meeting, preventing some MPs from attending.
The unionist bloc also objected to the change in the order of the day, but Torrent overruled their demands to first discuss the matter, and the chamber voted for it to go ahead.
Legal consequences
Torrent and other members of the parliament bureau could face legal consequences for allowing Tuesday's vote, as Spain's Attorney General urged prosecutors in Catalonia to launch an investigation for alleged disobedience.