Parliament speaker accused of disobedience for allowing votes on monarchy and self-determination
Public prosecutor presses criminal charges against Roger Torrent and the heads of the chamber for contravening Constitutional Court bans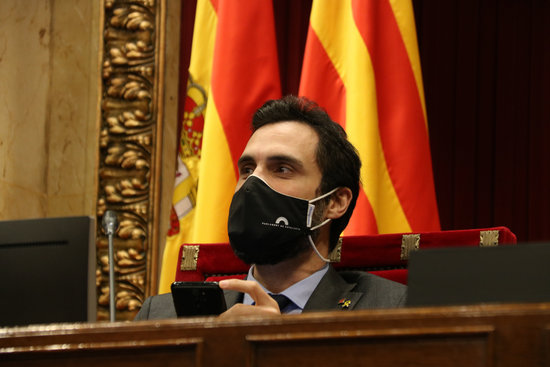 The speaker of the Catalan parliament is facing a criminal lawsuit for allowing lawmakers to vote in favor of self-determination and against the Spanish monarchy in 2019.
The public prosecutor accuses the pro-independence politician Roger Torrent and three members of the chamber's bureau of disobedience to Spain's Constitutional Court.
The motions were passed on November 12, 2019, with subsequent amendments on November 26. They were backed by pro-independence parties, holding a majority of seats in the chamber.
One of the texts stressed that parliament "reiterates and will reiterate as many times as MPs choose the disapproval of the monarchy, the defense of self-determination and the affirmation of the sovereignty of the people of Catalonia to decide their political future."
The Constitutional Court revoked the motions, deeming them unlawful and in violation of previous rulings against Catalan self-determination.
Speaking out against the criminal lawsuit on Monday, Roger Torrent defended his role as speaker of the chamber: "We've made sure that everything can be discussed at the Catalan parliament, and it should remain this way. No matter how much they try to censor debates, they can't hide the monarchy's corrupt actions and that self-determination is a right we'll never give up."
Al @parlamentcat hem garantit que s'hi pugui parlar de tot, i així ha de continuar sent. Per molt que intentin censurar debats no podran amagar les pràctiques corruptes de la monarquia i que l'autodeterminació és un dret al que no renunciarem. https://t.co/3aTn90u1eg

— Roger Torrent 🎗 (@rogertorrent) March 1, 2021
Torrent's predecessor, the pro-independence activist turned politician Carme Forcadell, is serving an 11.5-year prison sentence for sedition for allowing lawmakers to declare independence from Spain in 2017.
While Torrent is not likely to end up behind bars, a conviction for disobedience could lead to a ban from public office for a number of years.
Last fall, the president of the Catalan government, Quim Torra, was sacked from his post after the Supreme Court upheld a previous sentence for disobedience.
Apart from Torrent, the public prosecutor has also filed charges against parliament bureau members Josep Costa and Eusebi Campdepadrós, as well as their former colleague Adriana Delgado.