Parliament accuses Spain's Constitutional Court of 'censorship'
MPs pass motion backlashing top judges' veto on self-determination stances in chamber, as part of text reacting to jailed leaders' verdict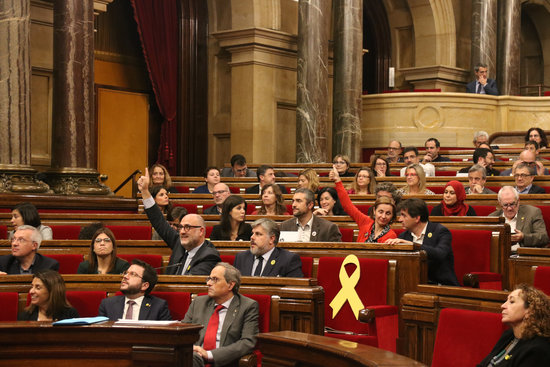 The Catalan parliament has accused Spain's Constitutional Court of "censorship" on self-determination and criticism of monarchy discussions.
The chamber has passed the motion reacting to the jailed leaders' verdict that was partly suspended by Spain's top court when accepted for consideration without the vetoed parts.
Yet, MPs craftily circumvented the block and called for self-determination and condemned the King of Spain by quoting the Constitutional Court's literal text – and calling it "censorship."
Pro-independence lawmakers of all three groups have also expressed criticism of themselves for their "incapacity" of building a joint response to the verdict on time.
Meanwhile, the unionist Ciutadans party announced also in the plenary session that their party will take the passed motion to the prosecutor's office. "You are the champions of disobedience," said party leader Lorena Roldán.
When the Constitutional Court partly suspended the motion, it warned the parliament and the members of its bureau under speaker Roger Torrent of the criminal consequences of not complying with its rulings.