Ada Colau to run for third term as Barcelona mayor in 2023 election
Barcelona en Comú party members unanimously enabled it in internal vote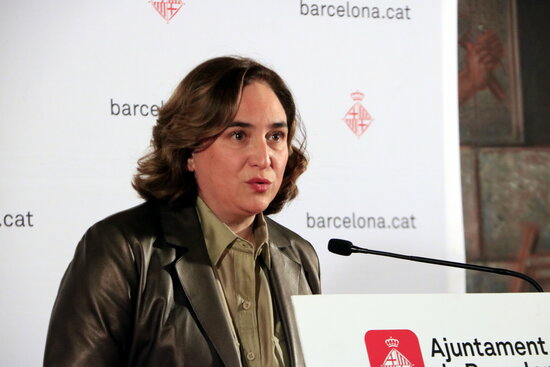 Ada Colau will run for a third term as Barcelona mayor in the 2023 local election.
Last Saturday, her party members at Barcelona en Comú unanimously approved the candidacy in an internal vote despite the political group's code of ethics establishing, in general, a limit of two terms.
The left-wing, anti-austerity politician will officially announce it on Thursday morning in a statement along with councilors Janet Sanz, Laura Pérez, and Jordi Martí.
"It's the third term and the last one," Ada Colau, said. "Further to what the [political group's] code of ethics establishes, I think it's reasonable in terms of personal sustainability and to consolidate the project, three terms are enough," she added.
Elected in 2015 and 2019
Colau was first elected as mayor in 2015 when she won the election over then-mayor Xavier Trias.
Four years later, in 2019, she ran again and narrowly came second in the vote behind pro-independence Esquerra's Ernest Maragall. Yet, the candidacy led by former French prime minister, Manuel Valls, backed her for the mayoral post to avoid a pro-independence party gaining power. This, together with the Socialists' support, was a key move for Colau to garner a majority to stay in power.
The talks for a coalition after the 2019 vote have been recently marred by espionage, as first published by La Vanguardia newspaper. Spanish intelligence agency (CNI) hacked the phone of an individual involved in the talks between Esquerra and Barcelona en Comú. In the end, the pro-independence party's chance to hold the mayoral post for the first time in 80 years was frustrated by the coalition between Colau, the Socialists, and Valls.
Public transport, climate change, and against tourism massification
While in office, Colau's politics have prioritized boosting public transport and removing cars from the city as much as possible. Measures such as the Low Emissions Zone, which ban the most polluting cars from entering the city, or the superblocks, which enables some roads to be used by only pedestrians.
She has also focused part of her efforts on climate change, and is now the co-leader of global network of cities against climate crisis, C40. Colau has opposed projects such as the Barcelona airport expansion and has not picked a side in the debate over hosting the 2030 Winter Olympics, led by the Catalan government.
She has also tried to regulate mass tourism by freezing licenses for the construction of new hotels for years, halting new projects such as a Hermitage museum site in the city, and has struggled to stop skyrocketing rent prices and a constant flow of evictions.