The lowdown on the Barcelona Low Emission Zone
Restrictions on polluting vehicles are being introduced in and around Barcelona. But what does this actually mean?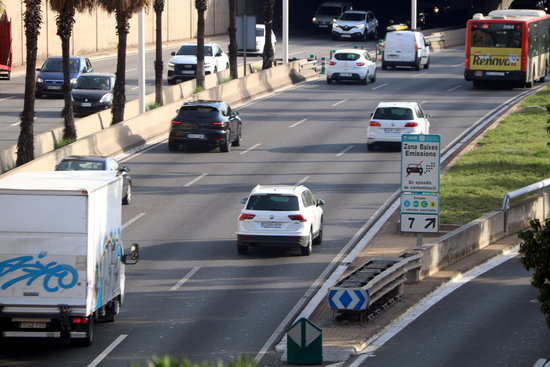 The Barcelona Low Emission Zone, active since 1 December 2017, was introduced to prevent the most polluting vehicles circulating the city. With the zone set to become permanent next year, what does it mean for citizens and visitors?
What is a low emission zone?
A low emission zone is an area where the circulation of vehicles is restricted to protect people and the environment from pollution generated by vehicles.
Why has one been introduced in Barcelona?
As a big city, Barcelona is a notably high polluter. In 2016, 68% of the population were measured as being exposed to higher levels of pollution than the maximum levels stated by the World Health Organisation and the European Union.
Where are restrictions imposed?
The zone itself includes Barcelona and the municipalities surrounding its ring roads. The zone is delimited by the Ronda de Dalt and Ronda Litoral ring roads, and includes L'Hospitalet de Llobregat, as well as parts of Esplugues de Llobregat, Cornellà de Llobregat and Sant Adrià del Besòs.
Is my vehicle affected?
The law applies to cars, vans, motorcycles and mopeds that do not bear the DGT's environmental label. These are petrol-engine cars with pre-January 2000 licence plates and diesel-engine cars pre-January 2006 licence plates, vans with pre-October 1994 licence plates, and motorcycles and mopeds registered before 2003.
Those with vehicles that fit the restrictions but do not have a DGT environmental label can obtain one from a Correos post office.
The restrictions do not apply to the vehicles for people with reduced mobility, and vehicles of emergency services and essential services. Vans, lorries, coaches and buses are exempt until restrictions become permanent.
When are restrictions?
Restrictions are currently limited to when a pollution episode is declared by the Barcelona City Council. When it is declared, the measures come into force at 7am on the following day. They will last between 7am and 8pm on weekdays for as long as the episode lasts.
Restrictions are however set to become permanent as of 2020.
What are the potential consequences?
Driving a vehicle that does not fit the restrictions and without the DGT's environmental label may result in a suitable fine for a minor offence.
If your vehicle does not have a label but fits the restrictions, don't worry. La Guàrdia Urbana may check the vehicle, but just to confirm that it does conform to traffic restrictions. However, displaying the label will help to prevent unnecessary stops both for driver and passenger as well as the Guàrdia Urbana.
You can see the area covered by the Low Emissions Zone below