Ada Colau renews her post as Barcelona's mayor
BComú leader elected by city councilors with support from Socialists and Manuel Valls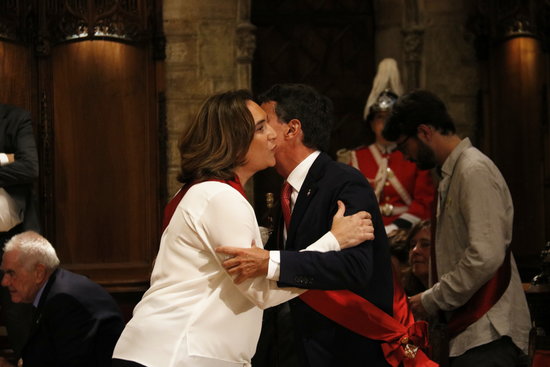 Barcelona in Comú's Ada Colau has been reconfirmed as mayor of Barcelona on Saturday, despite her narrow electoral loss against Esquerra's Ernest Maragall, thanks to support garnered from Jaume Collboni's Socialists and former French Prime Minister Manuel Valls' party in the city council.
This comes following Friday evening's announcement that her party would enter into a preliminary governing agreement with the Socialists after consulting BComú members, of which over 71% of voters opted for a BComú-Socialist agreement with her as mayor rather than a BComú-ERC one.
Since her party still did not have a majority of councilors with the Socialists, Colau has had to depend on the support of Manuel Valls' party's votes to renew her post as Barcelona's mayor.
Esquerra's Ernest Maragall – who used to be a Socialist himself – and Collboni's Socialists were unwilling to enter into a tripartite agreement together with BComú, impeding consensus on a new city government. This impasse lead Colau to appeal to her party's members, who chose the Socialists over Esquerra as their city council partners.
Jailed politician takes seat
Jailed pro-independence leader Joaquim Forn was allowed to take his seat as city councilor after having been transferred from Madrid's Soto del Real prison to Brians 2.
On Saturday, as on Friday when he registered as councilor, Forn was escorted into the council by Mossos d'Esquadra police to take his seat.
He is expected to be sent back to the Madrid prison shortly and is likely to be disbarred as were the jailed politicians who were elected as MP and Senator in Spain's April 28 elections.