6th state of alarm extension to succeed, prompting discrepancies in Catalan government
Emergency measures to last until June 21 after separate deals with unionist Cs, Basque nationalists, and pro-independence ERC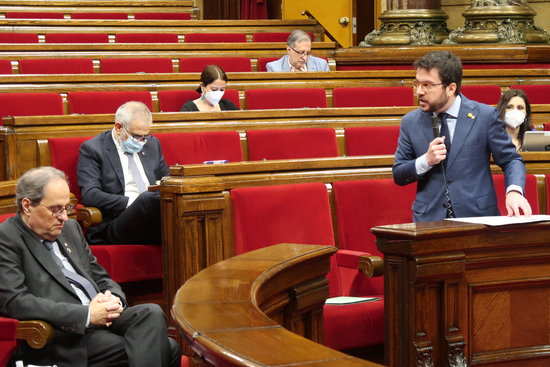 Spain will be under a state of alarm until June 21, as the congress is expected to approve a new extension on Wednesday after several deals that the Spanish government has sealed with different parties separately.
Last Saturday, the Socialist-led executive reached agreements with the Basque Nationalist Party (EAJ-PNV) and Catalan pro-independence ERC to grant more autonomy to regional cabinets to handle the lockdown easing from Phase 3, in exchange for Yes and abstention votes, respectively.
Although ERC will be abstaining, their Catalan government coalition partners JxCat will be voting 'No' as they deem the extension to curtail their authority to manage lockdown de-escalation in Catalonia.
On Monday, Pedro Sánchez's government also reached a deal with unionist Ciudadanos, ensuring a victory in the state of alarm extension vote, which will be held on Wednesday.
Inés Arrimadas' party will vote Yes in exchange for Spain committing to grant "identical" measures at the end of the de-escalation process in all the areas of the state.
By June 15, Sánchez will have to present a plan for the so-called 'new normality', that is, for the period beginning when the de-escalation lockdown 4-phase scheme reaches its end.
Although EAJ-PNV sees "contradictions" between their deal and that of Cs, they both made possible the fourth and fifth extensions – the first ones in which the Spanish government had a hard time to succeed.
Tension in Catalan government
Meanwhile, the leading group in the pro-independence Catalan government, Junts per Catalunya (JxCat), will vote against the state of alarm extension, unlike its partner in the cabinet, ERC.
JxCat claims to be against the state of alarm extension because it "annuls and centralizes" the authority of Catalan ministries, "especially that of health."
Indeed, JxCat's Quim Torra, the Catalan president, said on Saturday evening that the deal between Spain and ERC "does not bind" his government.
According to presidency sources, Torra told his vice president, Pere Aragonès (ERC), that he does not understand "why a vice president of a pro-independence government contributes to extend the situation that prevents powers being devolved" to Catalonia.
For the Catalan leader, the extension to the state of alarm "annuls and centralizes" powers.