Spain's president unveils four-phase plan to ease lockdown aiming for 'new normality' at end of June
Pedro Sánchez says each province will change phase "at different speeds," despite Catalonia flatly rejecting provinces as unit of reference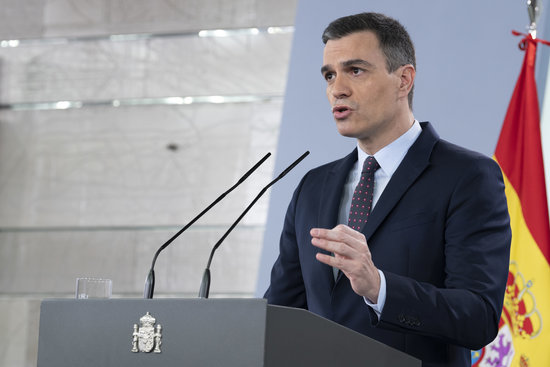 Spain's president, Pedro Sánchez, unveiled a four-phase plan to ease lockdown aiming for "new normality" in Spain by the end of June.
Speaking in a press conference on Tuesday afternoon after a cabinet meeting where the plan was discussed an accepted, Sánchez said that confinement will ease gradually: there will be 3 phases each lasting at least 2 weeks, plus a phase zero which will begin on May 4 and last a minimum of 1 week.
Province, unit of reference
Spain's government, "in coordination with the regions," will decide whether each of the Spanish provinces and islands moves into the next phase. This means territories will move "at different speeds."
There are four in Catalonia: Barcelona, Girona, Lleida, and Tarragona. The Catalan government flatly rejected provinces as a unit of reference.
"We want to relax confinement by health regions and basic areas of health," said on Saturday the Catalan health minister, Alba Vergés. "What is certain is that it won't be made by provinces."
She mentioned as an example the province of Barcelona, which includes the densely populated Catalan capital of Barcelona a well as villages in the Pyrenees.
Phase Zero
Pedro Sánchez announced that Phase Zero is preparation for de-escalation of lockdown, and it is already underway.
It includes letting children out for walks, as allowed since Sunday, with adults also permitted to go out for a stroll from May 2.
Other measures of this phase will be applied on May 4 in all provinces (except for the island of Formentera in the Balearic Islands, and La Gomera, El Hierro and La Graciosa in the Canary Islands, which on May 4 will go straight to phase 1). This include the opening of certain businesses by appointment (such as restaurants but only takeaway service) and basic training for professional sports.
Phase One
In Phase One, small businesses will be able to open with security measures; this won't include shopping malls, deemed more likely to attract crowds.
Restaurant terraces can open, with a maximum capacity of 30%, as can hotels, except communal areas which will remain closed. There will be preferential hours for elderly people in such places.
"Medium" training of professional leagues will be allowed in this phase, as well as the opening of religious places at 1/3 of capacity.
Phase Two
Phase Two will be the intermediate phase, announced Sánchez. Restaurants will run at 1/3 of the total capacity with table service. Cinemas, theaters and exhibitions will also open at 1/3 capacity.
As for cultural events, there will be a maximum of 400 people outdoors and 50 indoors.
Schools will not open fully until September, but can open for certain limited activities from Phase Two
Phase Three
The last phase before the "new normality," phase three will make the general movement of people more flexible, with the use of masks still recommended. Retailers will be able to open at 50% capacity, with measures for restaurants to be eased as appropriate.
State of alarm extension
Sánchez also confirmed he will ask Congress to approve a further extension of the state of alarm, for an additional 15 days from May 10.
The state of alarm imposing restrictions on movement and confining people to their homes first came into effect on March 14 and has been extended three times since then, most recently on April 22 when it was extended until May 9.
Catalan government critical of state's handling of crisis
However, the Catalan government has been highly critical of how the state authorities have gone about approaching the lifting of restrictions, most notably calling for children to only be allowed out during specific time slots depending on their age.
On Sunday, in a meeting of the heads of regional governments, Catalan president Quim Torra asked Sánchez to hand the powers to manage the coronavirus crisis back to Catalonia.
"Centralization in decision-making has not been effective. Decisions cannot be made 600 kilometers away," insisted Torra before the meeting.
Earlier in the health crisis, the Catalan government also consistently called for a total lockdown to halt the spread of the virus, for example, opposing the decision by the state authorities to allow non-essential employees to return to work on April 13, and criticizing the decision to centralize purchasing of protective equipment for health workers.