Regional governments to oversee lockdown de-escalation in Phase 3 from June 8
Pro-independence parties disagree on sixth state of alarm extension to be voted on Wednesday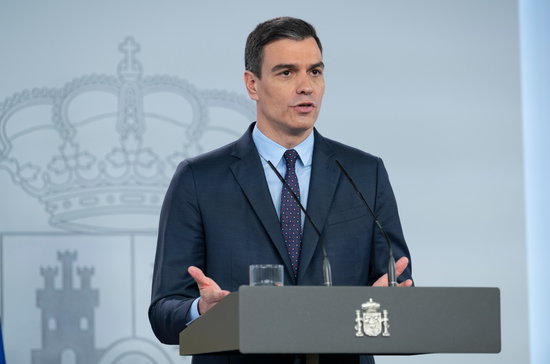 As of June 8, authority over lockdown de-escalation will be returned to regional governments in territories that have entered Phase 3, as was announced by Spanish president Pedro Sánchez on Sunday.
This is one of the new measures that will be seen during the sixth and final 15-day state of alarm extension, which still must be voted on in Congress on Wednesday, June 1 and is to last until June 21.
Sánchez clarified, however, that while regional governments would regain authority over most aspects of de-escalation in territories in Phase 3, the Spanish government would still control travel within different regions.
This move was announced in a press conference on Sunday after the 12th meeting held between the Spanish president and regional leaders since the beginning of the health crisis.
The Spanish president also stated that he is committed to restarting talks between the Spanish and Catalan governments on the independence conflict "sooner rather than later" at some point after June 21, possibly in July.
This is in line with what Catalan vice president Pere Aragonès said in an interview with RAC1 radio station earlier on Sunday when he predicted dialogue on the matter would resume at some point in "early July."
Catalan parties divided
Leftwing pro-independence party Esquerra Republicana (ERC) already announced on Saturday that it would be abstaining in Wednesday's congressional vote on the state of alarm extension in exchange for greater authority for regional governments - this deal, however, must still be ratified on Monday.
Catalan president Quim Torra, of Junts per Catalunya (JxCat), on the other hand, has affirmed his party's decision to vote against the prolongation in Congress for reasons he said he would discuss with Sánchez during the regional presidents meeting.
Avui exposaré al Sr. Sánchez que per respecte a la institució que represento i en defensa de les competències de totes les Conselleries del Govern, i en especial de la de Salut, no puc acceptar la pròrroga de l'estat de l'alarma que precisament les anul·la i centralitza.

— Quim Torra i Pla (@QuimTorraiPla) May 31, 2020
Unlike their Catalan government coalition partners ERC, JxCat claims to be against the state of alarm extension because it "annuls and centralizes" the authority of Catalan ministries, "especially that of health."