Joan Laporta wins back FC Barcelona presidency with overwhelming support
With 54% of votes, Laporta will lead the club again 18 years after his first election win, hoping to bring back past glory despite financial trouble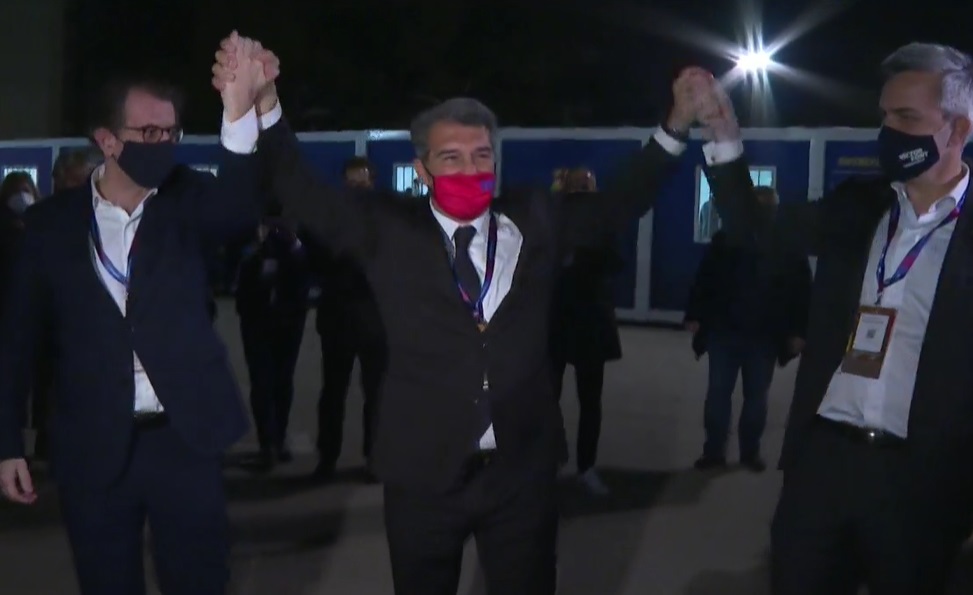 Joan Laporta has won back the presidency of FC Barcelona with overwhelming support from the members of the Catalan football club, who voted en masse on Sunday despite Covid-19 concerns to surpass a 50% turnover.
Firstly elected in 2003, when he presided over one of the club's most glorious spells until 2010, Laporta faces the challenge of bringing back past triumphs despite colossal financial troubles and amid corruption investigations into his predecessor, Josep Maria Bartomeu, who was arrested this past week.
With 55,661 votes cast, Laporta got around 54% of all the ballots, followed by Víctor Font (30%) and Toni Freixa (9%).
The first words of new FC Barcelona president Joan Laporta: pic.twitter.com/z33If9zMPR

— FC Barcelona (@FCBarcelona) March 7, 2021
Presidential candidates called this election "the most consequential" in the club's recent history. The club sits in a dangerous financial position, fans and experts alike believe the squad needs refreshing, and the team's best-ever player and captain, Leo Messi, tried to leave for free last summer and could yet depart at the end of this campaign.
When club finances were revealed in October, just weeks before the resignation of Bartomeu, they unveiled huge losses of €97 million for the 2019/20 season and total club debts spiralling to €820 million, although it is claimed this figure will drop to €488 million when money and earnings that is owed to the club will be paid.
The man who hired Guardiola
Laporta was the man who hired Pep Guardiola as manager in 2008, and a year later the club famously claimed six titles; La Liga, the Champions League, Copa del Rey, Spanish Super Cup, European Super Cup, and the Club World Cup.
During the campaign, Laporta relied heavily on his past success and charisma to take him to office. Few figures in the world of football governance are as clever at PR and dealing with the media as he, as exemplified by his tongue-in-cheek banner adorning the side of a huge building very near Real Madrid's Santiago Bernabéu stadium in December that read 'Looking forward to seeing you again' with Laporta's face on it.
The former president gathered 10,257 signatures to make his candidacy official, the most of anyone up for election and far surpassing the 2,257 needed, as well as greatly outdoing the quantities he collected for prior elections (5,725 in 2003 and 4,272 in 2015).