Meet the candidates for the FC Barcelona presidential election
One of Joan Laporta, Victor Font, or Toni Freixa will take over a club with grave financial instability and huge challenges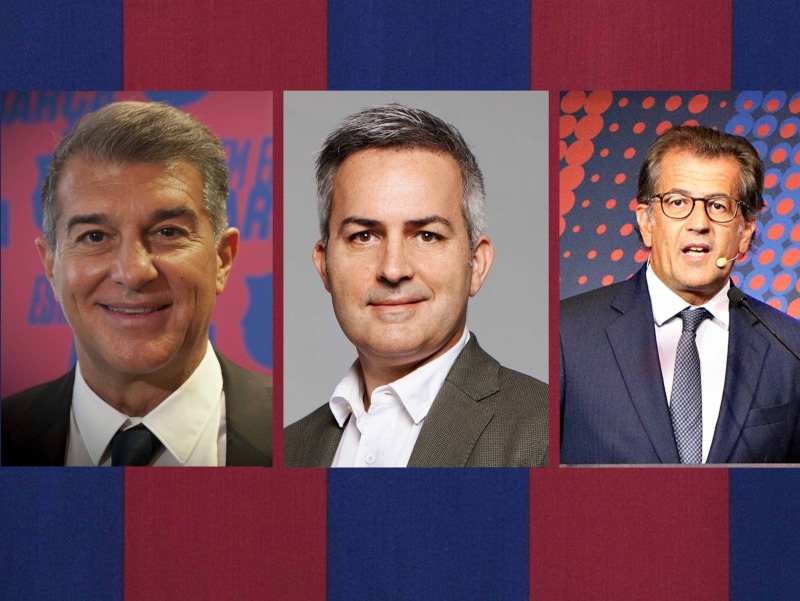 After Josep Maria Bartomeu stepped down as president of FC Barcelona back in October, the club have been going through the procedures of finding a replacement ever since. An interim leader took charge temporarily, and a date of January 24 was announced for the vote to take place for club members to name the person who will lead the Catalan giants into the future. Yet, this was postponed due to Covid-19 until March 7.
The upcoming election is one of the most important in the club's recent history. The club sits in a dangerous financial position, fans and experts alike believe the squad needs refreshing, and the team's best-ever player and captain, Leo Messi, tried to leave for free last summer and could yet depart at the end of this campaign.
When club finances were revealed in October, just weeks before the resignation of Bartomeu, they unveiled huge losses of €97 million for the 2019/20 season and total club debts spiralling to €820 million, although it is claimed this figure will drop to €488 million when money and earnings that is owed to the club will be paid.
Media reports this week say the debt figures are even higher, and that €420 million is due to be paid out of the club in the short-term which will force the incoming leaders to try to negotiate with creditors, as there is a risk that the club could become insolvent. Remarkably, Catalan newspaper La Vanguardia revealed that the previous administration had budgeted for a 25% capacity return to stadiums by December, and 100% by February, a scenario they describe as "far from reality."
The future president will have their work cut out for them. But who will the person be to take on this mammoth task? Three candidates have made it through the pre-candidacy stage and gathered enough relevant signatures to put their name on the ballot in hopes of being elected the new president of FC Barcelona.
Earlier in the week, it was expected that four candidates would make the cut to be in the race but Emili Rousaud later dropped out, alleging a "dirty war" behind the scenes to end his bid, and he formally removed himself from the election before his signatures collected were verified.
Joan Laporta - The favourite, evoking memories of a glorious past
The man who presided over one of Barcelona's most glorious spells, Joan Laporta, is running again for the presidency. He was in charge at the Camp Nou between 2003 and 2010, and was the man who hired Pep Guardiola as manager in 2008, and a year later the club famously claimed six titles; La Liga, the Champions League, Copa del Rey, Spanish Super Cup, European Super Cup, and the Club World Cup.
Laporta is relying heavily on his past success and charisma to take him to office. Few figures in the world of football governance are as clever at PR and dealing with the media as he, as exemplified by his tongue-in-cheek banner adorning the side of a huge building very near Real Madrid's Santiago Bernabéu stadium in December that read 'Looking forward to seeing you again' with Laporta's face on it.
The former president gathered 10,257 signatures to make his candidacy official, the most of anyone up for election and far surpassing the 2,257 needed, as well as greatly outdoing the quantities he collected for prior elections (5,725 in 2003 and 4,272 in 2015).
Yet, he's not over the line yet, as he also ran in the past election but lost to Bartomeu by 54% to 33% of the ballots.
Victor Font - Years of preparation and aiming to stabilize a club in choppy waters
One of the most vocal critics of the previous administration, Victor Font has been preparing his candidacy for the Barça presidency for years. Due to his leadership with the Sí al Futur group which was central to the no-confidence motion to remove Bartomeu as president, Font was the early favourite in the race, but after only gathering 4,710 signatures to officially be in the race, he is now considered the second favourite behind Laporta.
Font is basing his pitch to 'socis' (club members) around the need for fresh faces and eyes, with a view to modernize methods and look to the future. He says the club "cannot go back to 2003" referring to Laporta's bid, and described his rival's campaign as an exercise in "nostalgia."
Legendary Barça midfielder Xavi Hernández is understood to keep close ties with Font, and the candidate has been using their relationship as weight in his presidential campaign, claiming that the current Al-Sadd Sports Club manager will take over the reins at Camp Nou only if Font is elected.
Toni Freixa - Rejects 'continuity candidate' tag but avoided criticizing old board
52-year-old lawyer Toni Freixa ran before in the 2015 election and is basing his sales pitch in a very similar mould to back then. He served on the board of directors under both Joan Laporta as well as Josep Maria Bartomeu.
He has been accused of being a 'continuity candidate' following on from the hugely unpopular Bartomeu regime because he did not participate in the campaign to remove the previous administration. However, he denies this, explaining that he feels solutions are better found with "institutional stability" and not by criticizing. Freixa has also pointed out that he stood against Bartomeu in the previous elections, presenting different ideas to the man who would eventually win office.
Freixa has publicly backed Ronald Koeman as coach and would have no plans to remove him if he comes to power. In a September interview with La Vanguardia, the lawyer put a lot of emphasis on the team and how he wanted to see players "proud" to play for the club as well as wanting to promote youth team players, something Barça has historically been famed for, despite the fact that production lines at La Masia have slowed down recently.
Freixa got 2,821 signatures together to formalise his candidacy.