Will Barcelona return to pre-Covid pollution levels?
Environmentalists want cars kept off streets but automotive industry stresses alternative solutions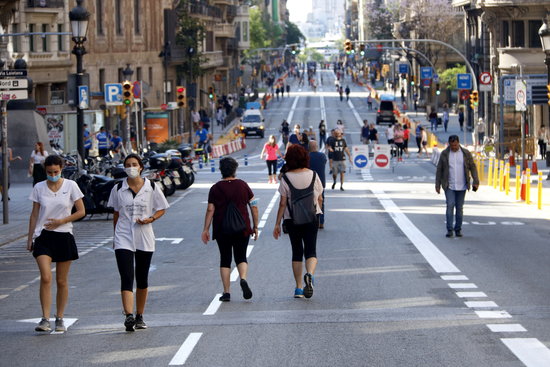 One silver lining to emerge from the cloud of the coronavirus crisis was the drop in air pollution as cities around the world went into lockdown.
Now, a debate is raging on how to prevent pollution levels returning to their pre-coronavirus norm.
In Barcelona, city councilor Janet Sanz drew the ire of the automotive industry when she advocated taking advantage of the coronavirus crisis to "prevent the reactivation" of the sector, comments which prompted the Catalan Automotive Industry Association (CIAC) to remind her that it employs more than 4% of the population.
Environmentalists argue that keeping cars off the roads is the quickest and simplest way to keep pollution levels in check, while automakers say technological advances are allowing them to make private vehicles that are greener and cleaner than ever.
A warning
In Barcelona, air pollution fell 62% during lockdown to the lowest levels seen in over a decade, according to a study by environmental group Ecologistes en Acció (Ecologists in Action).
While many factors can influence contamination levels - among them weather systems, flights, cruise ships and road traffic - Barcelona councilor Eloi Badia points out that "the decrease in traffic has had a direct, proportional correlation with the decrease in pollution."
And with more people on the move as lockdown measures are gradually eased, air pollution levels are increasing too, according to figures from the Catalan government.
On May 21, before Barcelona had advanced to Phase 1 of the lockdown de-escalation plan, levels of nitrogen dioxide (NO2) at eight monitoring stations in Barcelona were at their highest since March 14, and already well above the European Union's recommended maximum level.
The growth in journeys has not been even across different modes of transport, something that worries Badia, who heads up the council's work on the climate emergency and ecological transition.
"It is accelerating much more for private vehicles than for sustainable modes such as public transport," says Badia. "This is a warning that a return to normality could see us in a worse scenario than before."
Push for less cars
The Catalan government says they are following their climate change plan with "no more restrictive measures" to be introduced in light of the Covid-19 crisis and subsequent lockdown, according to a statement provided to Catalan News by the Department for Territory and Sustainability.
Ecologists, however, are arguing for further measures to be introduced. Anna Pérez Català is an environmental scientist and activist. When asked about what policies she would like to see implemented she doesn't hesitate: "We need to push for less cars."
Barcelona's Low Emission Zone came into effect on January 1 this year but it doesn't go far enough for Pérez Català.
"There are regulations in Barcelona to take cars out of the cities, but that needs to be way bigger and implemented across different cities, not only Barcelona."
It's a view shared by Ecologistes en Acció, who say we have to "drastically restrict traffic" in order to move towards "pollution-free cities and convert roads for the exclusive use of pedestrians and bicycles while maintaining safety distancing," in a statement put out on May 15.
The group acknowledges that some cities "such as Barcelona, ​​Girona and Vic have begun to take action to improve the public transport system and encourage pedestrians and cyclists" but complain that the measures are "very timid" and that they were already planned before the Covid-19 crisis.
They're critical of the the fact that in other cities, such as Lleida in the west of Catalonia and Tarragona in the south, "no action has been taken."
Working from home
Barcelona City Council says there are lessons to be learned from lockdown. Badia cites the example of working from home.
"Teleworking, which we've had an accelerated experiment with, means much fewer commutes, much less energy consumption."
The Catalan railway service (FGC) are expecting an overall reduction in journeys on all modes of transport of between 10% and 15% once the pandemic is over, due to an increase in remote working. This is in addition to another fall of 10% to 15% due to an increase in unemployment, at least in the short term.
Automotive industry
The automotive industry believes that air pollution from vehicles can be significantly reduced without having to take cars off the road, and it's not just electric vehicles that can provide "the answer to the pollution emissions" problem, according to Josep Nadal, manager of CIAC.
Nadal cites hybrid and hydrogen models as alternatives to traditional motors, and also argues that the most recent petrol and diesel engines being produced "have a huge reduction in emissions, something amazing."
Consumers also have a major role to play, argues Nadal. "People, at the end of the day, have the power to decide which model [to buy] and how eco friendly this model is."
"This is the way that society tells the manufacturers what they have to improve if they have to, or what they have to continue doing."
Green recovery
But for Pérez Català it's not only customers, but governments who should be guiding manufacturers.
She expects there will be a "bailout or something similar, for a lot of the most polluting industries like the car industry or aviation industry," and, as an environmental activist, she wants any rescue from public funds to come with strings attached.
"If they have to give money to that industry," says Pérez Català, they should consider what companies can do "to be more sustainable."
Such measures would form part of what environmentalists hope will be a green post-Covid-19 recovery, an idea that is gathering momentum.
On May 26, the World Health Organisation published their manifesto for a healthy recovery, advocating for "healthy, liveable cities", and the "major health benefits" of reducing air pollution by making trips by public transport, walking and cycling, rather than by private cars.
And on the same day, over 350 organisations representing over 40 million health professionals, including the Society for Public Health in Catalonia and the Balearic Islands (SSPCB), wrote an open letter to the G20 leaders calling for a "healthy recovery," which "will not allow pollution to continue to cloud the air we breathe."
Barcelona City Council is already taking steps to encourage people to make journeys by foot, bike or on public transport. On April 25, the council presented a 4.4 million euro plan of "urgent and immediate" measures, with mayor Ada Colau saying "we don't want to go back to the pollution of the past."
Survival
But for many businesses, the post-Covid recovery will be focused solely on survival.
Companies in the automotive sector, which accounts for more than 10% of Catalonia's GDP, are operating at much lower levels than before the crisis.
"I would say more than 50% of our companies right now are at production capacities of around 50, 60, 70%, so the focus of the companies would be just to survive and readapt production to demand," says Josep Nadal.
The CIAC manager recognises that society is "more conscious of the impact of our acts on the global environment and climate" but he is confident that vehicles manufacturers can adapt to the challenge.
"The automobile industry is quite an old industry and we adapt over many years to many changes. It will be a challenge of course but it something we have already started doing and we keep just moving on."