Pedestrianised streets and wider pathways: Barcelona's plan for a return to mobility
The city council will invest €4.4 million to adapt public spaces, while some major streets will be closed to vehicles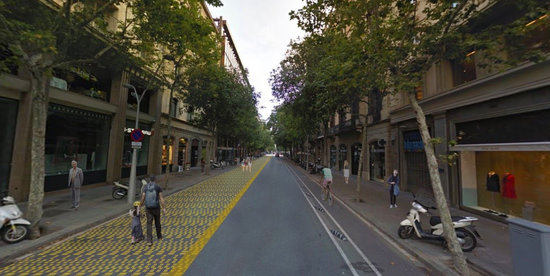 Barcelona City Council has presented a plan with "urgent and immediate" measures to "adapt" the city to the beginning of a return to mobility.
In anticipation of the gradual lifting of lockdown restrictions, changes will be implemented in public space in the coming days to encourage travel by foot, bike, and public transport.
"We don't want to go back to the pollution of the past," mayor Ada Colau said in a public appearance in Barcelona's Plaça Universitat, in the center of the city.
With a budget of 4.4 million euros, some of the busiest city center streets will be pedestrianised, such as Consell de Cent, Carrer de Girona and Carrer Rocafort.
Sections of Gran Via and Diagonal Avenue will also be closed to traffic, and sidewalks such as those on Via Laietana will be widened. The method to "anticipate" changes will be done with paint signs on the ground.
The plan envisages 21 kilometers of bike lanes on 10 new lanes in the city, added bus lanes and more frequent services, so as not to congest the public transport.
Reverse the trend towards the private vehicle
The city council's plan, which will be presented at the next plenary session, aims to "guarantee the safety and public health of citizens on their travels," while at the same time prevent the continued use of private vehicles, to somewhat avoid the levels of air pollution seen before the public health crisis.
Before the pandemic, 26% of trips were made by private vehicle and 37.3% by public transport, while currently 34.4% opt for private vehicles and 19.5% for public transport.
The aim of the new municipal plan is to reach 40.8% mobility in public transport, 35.3% on foot, 19.9% ​​by private vehicle and 4% by bicycle.