'Freedom of speech imprisoned': reaction to rapper Hasél's arrest
Politicians, human rights groups, and artists speak out against Catalan musician's detention at Lleida University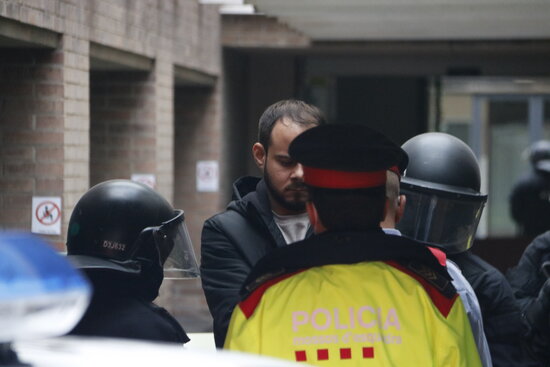 Catalan rapper Pablo Hasél was arrested at Lleida University at 8:30 on Tuesday morning after a period spent barricaded within the institution refusing to voluntarily give himself up to the police within 10 days.
Spain's National Court sentenced Hasél to two years and nine months behind bars for two separate cases relating to the content of some of his songs and tweets deemed to promote the "glorification of terrorism" and slander to the crown and Spanish law enforcement.
His arrest has sparked outrage in Catalonia and across Spain, with many uniting to defend the rapper's right to freedom of expression.
Politicians voice their opposition
Politicians within both the Spanish and Catalan governments have stood up against the incarceration of the artist.
"Today, it is freedom of speech that has been imprisoned," expressed Catalonia's culture minister Àngels Ponsa.
"[Hasél's arrest] is a symptom of grave democratic deficits," lamented Spanish consumer affair's minister Alberto Garzón.
Ponsa and Garzón were joined by other Catalan political figures in denouncing the arrest, including Jessica Albiach, who ran for president in the Catalan election as part of the En Comú Podem party, as well as CUP MP Albert Botran.
Albiach called the incarceration an "anomaly", going on to describe it as an "injustice".
"I think that, since we are talking about a law concerning fundamental rights, it is relevant to mention that today a singer was imprisoned in Spain, just like in the saddest of dictatorships," Botran said in Spain's Congress after playing one of the rapper's songs on his phone.
Catalan government spokesperson Meritxell Budó called the arrest "more evidence of the regression of rights" taking place that her executive have been denouncing "for a long time."
Freedom of speech in danger say human rights groups
Human rights groups, such as the globally-established Amnesty International, have spoken against this decision, with the organization's Spanish labeling it "terrible news for freedom of speech."
‼️ Terrible noticia para la #LibertadDeExpresión en España. Los Mossos han detenido a Pablo Hasél en la Universidad de Lleida. ¡Indignación absoluta! Este es el vídeo de la vergüenza. 🔻 Abrimos HILO.
@PabloHasel #PabloHasel #LlibertatPabloHasel #NoPiensoCallarme https://t.co/59ledNHVHi

— Amnistía Internacional España (@amnistiaespana) February 16, 2021
Òmnium Cultural, a Catalan civil society group led by one of the jailed pro-independence leaders, Jordi Cuixart, also gave their support to the musician through social media.
"Pablo Hasél is the first musician to be put behind bars in the state since the start of the transition. Today it's him, but tomorrow it could be you," the association published the statement on their Twitter account.
A platform called 'Llibertat Pablo Hasél', freedom for Pablo Hasél in English, has been set up to advocate for the artist's cause, commenting that the media following of the situation and publication of pictures of the arrest has "hurt Spain", and that it has "committed a grave error".
Moreover, protests have been called for Tuesday evening in Barcelona, for people to demonstrate their shock and opposition to the actions carried out by the Catalan Mossos police after the Spanish court ruling.
A "disgrace" says exiled rapper Valtònyc
Valtònyc, the rapper in exile after being convicted of similar offences to Hasél, says it is a "disgrace" that Spanish authorities have imprisoned his fellow musician "for expressing his opinions".
Valtònyc has been living in exile since he was sentenced to 3.5 years in prison for glorifying terrorism, threats, and insulting the monarchy.
European Commission no comment
A spokesperson for the justice department of the European Commission, Christian Wigand, rejected commenting on the Pablo Hasél case, saying that it was a matter for the justice system of Spain.