Police handling of riots in spotlight, how public order is maintained key to government talks
Mossos d'Esquadra unions demand support from interior ministry as debate on operation in Barcelona's Gràcia district continues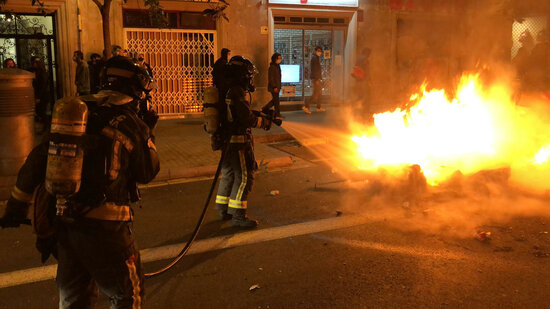 The Catalan police handling of the riots in protest against the arrest of rapper Pablo Hasel over the last week continues in the spotlight.
The artist's detention after his conviction for some of his lyrics and tweets has sparked six nights of unrest in several cities in Catalonia so far.
Controversial police operation in Gràcia
A 19-year-old woman in Barcelona lost an eye to a foam bullet fired by an officer on Tuesday, during the first night of protests, and on Saturday, the Mossos d'Esquadra police charged into protesters after cornering them on Barcelona's Gran de Gràcia street.
Aquest vídeo mostra perfectament la càrrega policial que s'ha produït avui entre Lesseps i Fontana.@mossos han carregat des de dalt i des de baix posant en clar perill a les manifestants, generant aglomeracions. Hi ha persones ferides @interiorcatpic.twitter.com/QLkXUpvDcg

— IRIDIA (@centre_IRIDIA) February 20, 2021
Both events have sparked much criticism among human rights organizations, such as the Irídia group, who said the action in the Gràcia district put people "clearly at risk" because it created crowds – the NGO said some people ended up injured after the police operation.
Meanwhile, the interior minister, Miquel Sàmper, said no injuries were reported due to the incident in Gràcia and added that "only for one minute was a minimal use of force employed."
He added that the Mossos' operation aimed to avoid the vandalism and looting reported in the past few days: "The riots and what we have witnessed this week are not the right to demonstrate."
Yet, not everyone backed the police over Saturday's events – for instance, the man who appointed Sàmper, the former president Quim Torra: "It is unacceptable in a country which we want freedom to express ourselves and demonstrate."
Human rights groups and police unions lobbying in different ways
On Friday, human rights groups Irídia and Amnesty International met with the interior ministry and the Mossos after having requested an independent investigation over the police handling of the riots and better mechanisms to control riot police officers, including making sure that their identification number can be seen at all times.